**These posts often contain affiliate links. Please see our disclosure policy for details.**
The newborn days are hard and often lonely. Here are 7 ways to support a new mom, and help her feel loved, encouraged and lifted up after bringing home a new baby.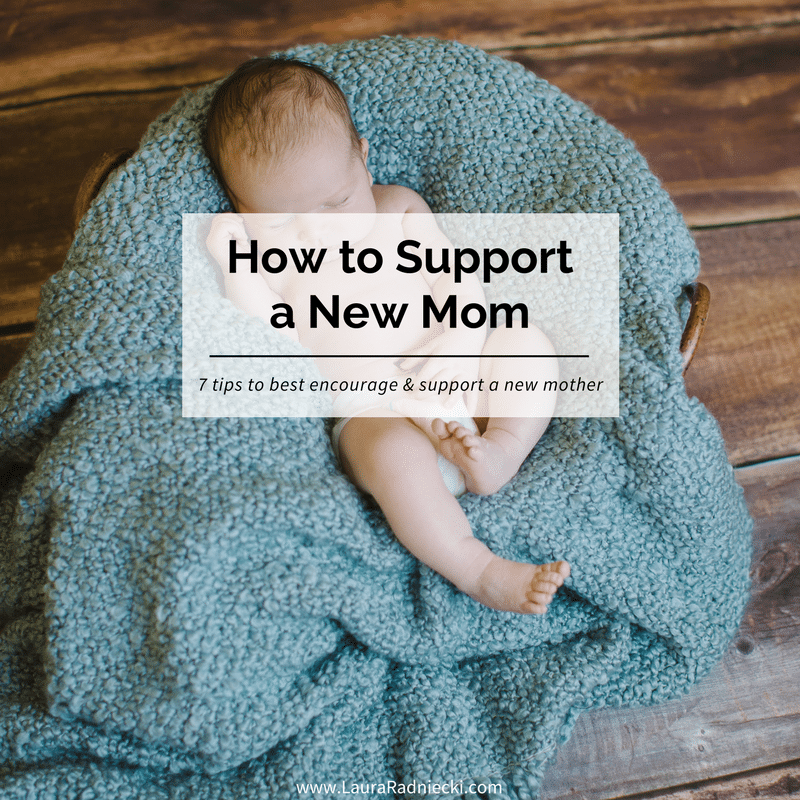 A few weeks ago, a friend of mine stopped by to visit and brought along her 6 week old baby. She was a new mom, and it was the first chance we had gotten to chat since she had her baby.
It didn't take long before the initial oohing and ahhing over the new baby and exchanging superficial pleasantries were over, and I asked her how things were going. That's when our conversation went deep.
She shared her difficult birth experience with me, and the struggles she's faced in the 6 weeks since then. I could see the emotions on her face and hear them in her voice. She was tired. She was struggling.
And I was able to look her in the face and tell her without a shadow of a doubt, "I get it. I've been there. I know what you are going through."
Birth was not easy for me. The transition to motherhood was not easy for me either. The first weeks of Raleigh's life were the hardest of my own. I have been in the thick of things, which was right where my friend was when we got together to talk.
She said something during our visit like, "I look back and feel bad that I didn't reach out to you in those early weeks after Raleigh was born. Now I know how hard and lonely it is."
Now that she's going through it too, she knows how hard the transition into motherhood can be for some people.
How Can We Support Each Other?
It got me thinking about supporting each other, and supporting new moms in particular.
What is the best way to support a new mom? How can you encourage a new mother who is in the newborn phase? What should you do?
A lot of people will mean well and say things like, "Let me know if you need anything!" Their heart is in the right place and if asked, they would likely do anything for their new mom friend.
The thing is, chances are that new mom will never ask. Very rarely will someone reach out and specifically ask for help, especially to someone other than their spouse and closest immediate family.
However, even though a new mom won't ask for help doesn't mean she doesn't need it. And it doesn't mean she wouldn't welcome it.
So the question remains, how can we best support, encourage and love on our new mama friends? What can we do to show our love when a friend or family member has a new baby? Especially if it's someone's first baby, how can we help lift them up during a typically very emotional and challenging time?
With these tips, you can take the initiative and support a new mom during a time when she needs it the most.
7 Ways to Support a New Mom
1. Send encouragement via a text, or a note in the mail.
At the very least, send a text to let the new mama know you are thinking of her and praying for her. The early newborn days are all consuming and can be very isolating. You forget there is life outside the walls of your house. Getting an encouraging text from a friend, or a happy letter in the mail helps ground you and keep you connected to the outside world.
2. Sincerely ask how they are doing.
Whether it's done via text, a phone call or in person, give the new mom a chance to tell you how they are really doing. All too often, we answer the question of how we are doing with a cheery, "Good!" even if we don't mean it. Encourage your friend to tell you how she is really doing, and ask follow up questions to encourage her to share. If you have similar experiences and can relate to how she's feeling, tell her that she's not alone and you've been there. Let her vent and tell her it won't always be this tough.
3. Drop off a meal.
The newborn days are a whirlwind, and the last thing on my mind as I got home from the hospital with my c-section scar, catheter and new baby was cooking. I don't love cooking to begin with, and with everything added post delivery, cooking was not something I wanted to do. But people need to eat, new moms included. One great way to support a new mom is to drop off a meal. Homemade meals are great, especially if they can be frozen and cooked when needed. But if you're not a cook, something as simple as a frozen pizza or a sub sandwich can be a lifesaver to a tired, new mom.
4. Drop off a gift basket to pamper the new mama.
I can't speak for everyone but I did not feel my best in the weeks after giving birth. Between my c-section and complications resulting in a catheter for 9 days, trying to figure out breastfeeding, the hormones and start of postpartum depression, and the state of my body after nine months of pregnancy, I felt like a stranger in my body. Plus, I was just so tired. Some of these things are unavoidable and all of them are temporary. But that doesn't make them any easier to deal with at the time.
In those early weeks, a family member came by and dropped off a gift basket full of simple things just for me. Great smelling shampoo, conditioner, body wash and lotion. A few sweet treats. An encouraging book. A heartfelt card. Nothing extravagant or expensive, but that gift basket meant the world to me. It lifted my spirits and added some sunshine into a cloudy season of my life. I still feel a wave of gratitude a year later whenever I see the basket around the house.


5. Come visit if they would like company.
Depending on the personality of the new mama, she may or may not want visitors during those early newborn weeks. For some people, having company come over can add stress and actually make a tough time even worse. But for others, having visitors can be a much needed relief from the isolation and all-consuming newborn days.
Before you try to schedule a visit with your new mama friend, make sure you know her well enough to know if she truly wants visitors or not. If visitors aren't what she needs right now, opt for one of the drop off tips from above. But if she welcomes a visit, then make plans and go see them!
6. Help them out at home.
If you are especially close to the new mom and she is ok with having people in her home, you are in the unique position to be able to help her out at home.
Offer to come over and hold the baby while she takes a shower or a nap. Or both! While you're there, maybe you can offer to do some laundry, wash the dishes, or clean the bathroom. Some people might be resistant to this type of offer for help. But there is likely something that you can do to help out, you just have to find it.
Another good option might be offering to pick up some groceries for her. She can give you a list, but some simple options like bananas and granola bars are great choices because they involve no prep and can be eaten with one hand!
7. Babysit when they are ready for a break.
This might not be something a new mom wants you to do for awhile, but as soon as they are comfortable leaving their baby for any amount of time, offer to babysit for them while they get away. Something as simple as letting them grab a coffee or take a walk around Target by themselves can do wonders for a weary, tired mama. Giving the new parents an opportunity to go on a date, whether that happens at night or in the middle of the day on a weekend is a great help too. Nothing quite puts a relationship on the back burner like the introduction of a new baby. Making intentional time to look each other in the eye without distractions is tough but necessary.
– – – – –
Some people have easy deliveries and glorious, sleepy early weeks with their newborn baby. Or at least they make it seem like they do on social media.
But the majority of us, myself included, have a hard time with the early weeks after having a baby. Recovery from birth is hard, adjusting to disrupted sleep is hard, and taking care of a brand new baby is hard. Especially if it's your first baby – it's just plain hard.
The newborn days can be isolating and lonely, and it's easy to feel forgotten and suffocated at times. It's hard to keep a proper sense of perspective when you haven't left the house in days and you don't remember the last time you slept more than 2 hours in a row or even took a shower.
By offering encouragement and support to a new mama with these simple yet effective tips, you can help her realize that she is not alone and this hard phase will not last forever.
As my grandpa always reminded me, "This too shall pass."
He was right.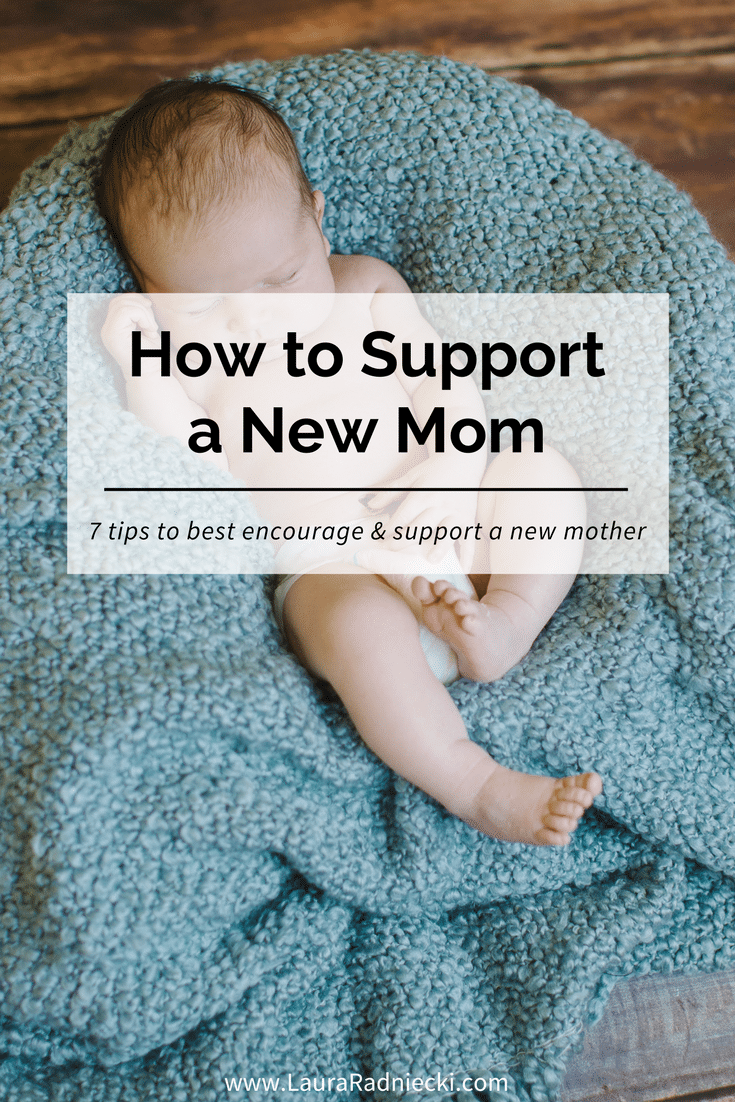 – If you liked this post, I would love if you would share it on Pinterest or Facebook. Thanks & xo! –