**These posts often contain affiliate links. Please see our disclosure policy for details.**
Parents may decide to make homemade baby food for a variety of reasons. For some people, they want to know exactly what they are feeding their baby, so they want to be in control of making the food. They are able to buy organic so they know their babies are getting the best.
For other people, homemade baby food is a cheaper alternative to store-bought varieties.
Whatever the reason for deciding to make homemade baby food, once you've bought the food and made the purees, the question remains of how to freeze and store them.
There are 6 common methods available to freeze and store homemade baby food, each with their own pros and cons.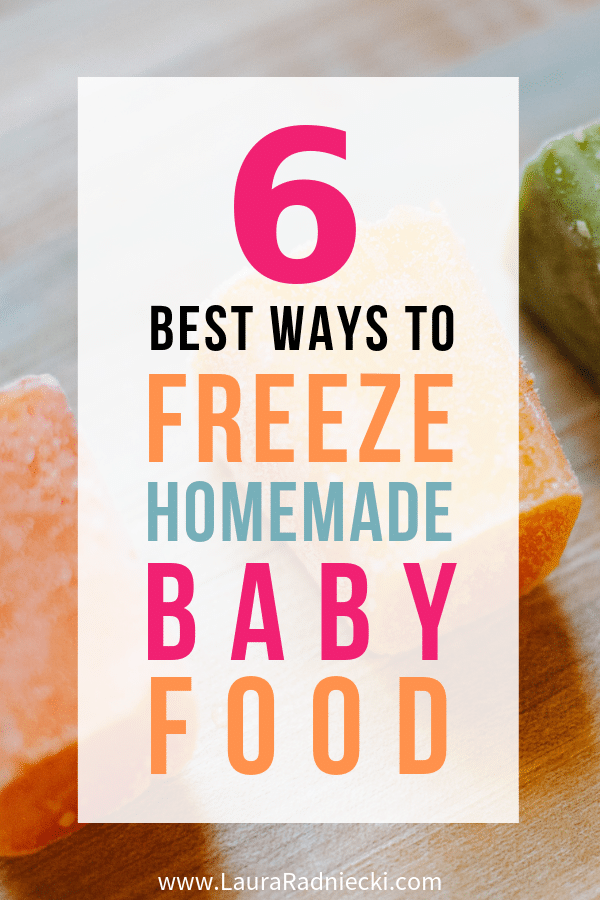 How to Freeze and Store Homemade Baby Food Purees
This post contains affiliate links. Please see my disclosure policy for more information.
1. Single Serving Baby Food Containers
One option for freezing homemade baby food is to use individual baby food storage cups.
These small silicone pots have a lid to keep the food fresh, and allow you to put the puree right inside and pop them into the freezer. They are also microwave and dishwasher safe, so you can take one out of the freezer when it's time to eat and heat it up in the microwave before feeding.
Single Serving Container Pros:
All in one – no need to freeze and transfer to another container for reheating and eating.

Ideal for fruit purees like apricots and prunes that don't freeze completely solid.
Single Serving Container Cons:
They take up a lot of space in the freezer.


2. Ice Cube Trays + Freezer Bags
If you do any online research about making and freezing homemade baby food, ice cube trays are likely the most commonly used method.
Purees are divided up into the compartments of standard plastic ice cube trays or flexible silicone trays, and frozen in the freezer. Once the cubes are frozen, they can be popped out of the trays, put into labeled freezer storage bags and kept in the freezer for several months.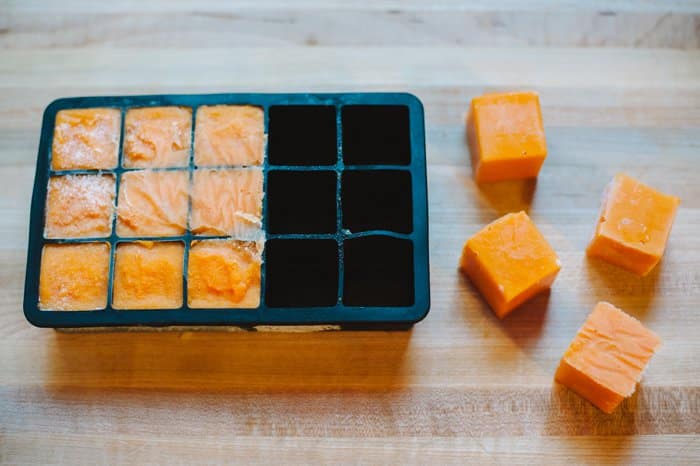 When it's time to eat them, you just remove a cube or two and heat in the microwave on a medium power.
Ice Cube Tray Pros:
Most people already have ice cube trays on hand.

Many cubes can be stored in one plastic freezer storage bag so they hardly take up any space.
Ice Cube Tray Cons:
Most ice cube trays make cubes that are 1 oz. For a baby who is eating larger meals, several cubes would be needed per meal.

This method does not work well for fruits like prunes or apricots that don't freeze solid. The cubes don't pop out easily and it is messy.

3. Baby Food Freezer Trays + Freezer Bags
Similar in look and purpose to ice cube trays, baby food freezer trays are made especially for freezing homemade baby food.
Versions like the Nuby Garden Fresh Freezer Tray have 2 oz compartments, and include a lid for sealing in nutrients when freezing and protecting against freezer burn.
Freezer Tray Pros:
Compartments are bigger, resulting in 2 oz cubes.

Include a lid which allows food to be stored in the freezer tray if transferring frozen cubes to a storage bag isn't desired.
Freezer Tray Con:
Not ideal for foods that don't freeze solid.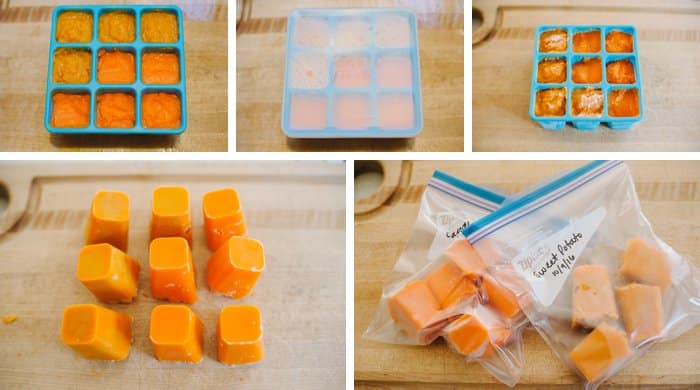 4. Baby Food Pouches
Another method for freezing homemade baby food purees is in pouches. You've probably seen the food pouches with the spout and cap that are so common these days. These are homemade versions of those.
There are single use pouches as well as reusable pouches that allow you to put your own homemade purees inside. The pouches can be frozen and thawed for convenient eating both at home and on the go.
Food Pouch Pros:
Convenient method for feeding your baby purees on the go. Can be used with a spoon attachment for young babies or eaten right from the pouch for older kids.
Filling station helps decrease mess when filling them with purees.
Reusable pouches save money by allowing you to only buy them once and then reuse them.
Food Pouch Cons:
Single use pouches get expensive and create a lot of waste.

They can't be microwaved. Require warm water to thaw.

5. Cookie Sheet, Wax Paper + Freezer Bags
A simple method for freezing homemade baby food using items you already have at home is the cookie sheet, wax paper and freezer bags method.
Similar to flash freezing any other type of food, scoops of puree are laid out on a wax or parchment paper lined cookie sheet. The cookie sheet is put into the freezer until the food freezes solid. Then, the mounds are popped loose and transferred to a labeled freezer storage bag for long term storage.

Cookie Sheet and Wax Paper Pros:
Uses common kitchen items and doesn't require buying anything new

Allows for easy transfer of frozen food to freezer storage bags.
Works well for foods that don't freeze solid like prunes or apricots.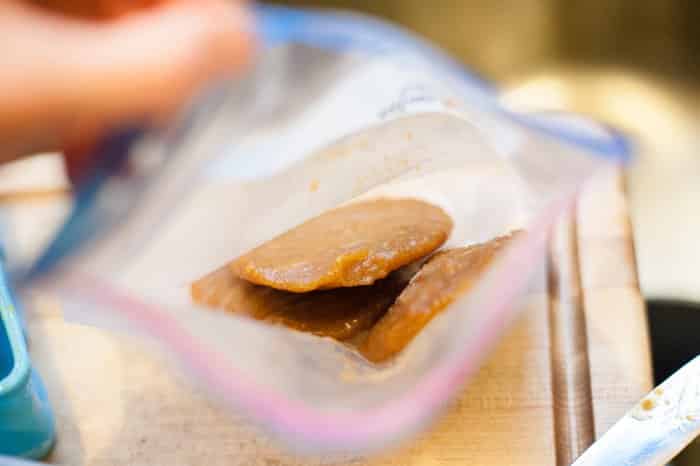 Above photo: Apricot purees that have been frozen on cookie sheets. They aren't frozen solid but they retain their shape enough to be transferred to a freezer bag and removed one at a time for serving.
Cookie Sheet and Wax Paper Cons:
Requires enough freezer space for the cookie sheets to fit inside while the purees freeze.

If the purees are very thin and runny, this method won't work as well because they will spread out and run over the cookie sheet.
6. Other Freezer-Safe Containers
Additional options for freezing and storing baby food are tupperware containers and freezer-safe glass jars.
The key here is making sure the containers you are considering are freezer safe. It also helps if they are microwave safe as well to allow for easy heating and serving.
Be especially careful with glass. Glass jars that are not freezer-safe can break in the freezer when the food expands as it freezes. Some people have experienced shards of glass in their baby food because they used non-freezer-safe glass jars.
However, there are freezer-safe glass jars available which could work, as well as other freezer-safe containers you might already have at home.
Freezer-Safe Containers Pros:
Use items you have at home.

All in one – no need to transfer to a separate container for storage, heating or serving.
Freezer-Safe Containers Cons:
Take up a lot of room in the freezer.

Risk of injury if non-freezer-safe containers are used.
Edited to add: even plastic can shatter if it's dropped after being pulled from the freezer. I found this out the hard way! The plastic gets frozen and brittle, and the impact from being dropped can make it shatter everywhere.
– – – – –
With the help of kitchen gadgets like a rice cooker for steaming foods and a food processor or blender for making purees, it's never been easier to make homemade baby food.
Once you've made the food, the next step is deciding how you will freeze and store it.
These 6 methods for freezing and storing homemade baby food purees vary in their costs, pros and cons. The choice is yours which method best suits your needs.
In my homemade baby food journey, I have primarily used the baby food freezer tray and cookie sheet methods. Once the food is frozen, I transfer them to freezer bags labeled with the date and type of food, and store them in the freezer that way.
When it's meal time, we pull out a food cube and put it in a kiddie bowl. Then we heat it up in the microwave for 1 minute on 60% power. Sometimes we need to add an ice cube to the bowl and swirl it around for a few seconds to cool off foods that heat up quicker. Then, it's ready to serve!
I generally don't enjoy cooking much but making homemade baby food is fast, easy and surprisingly fun. There is something intensely satisfying about having a big stockpile of frozen baby food in the freezer!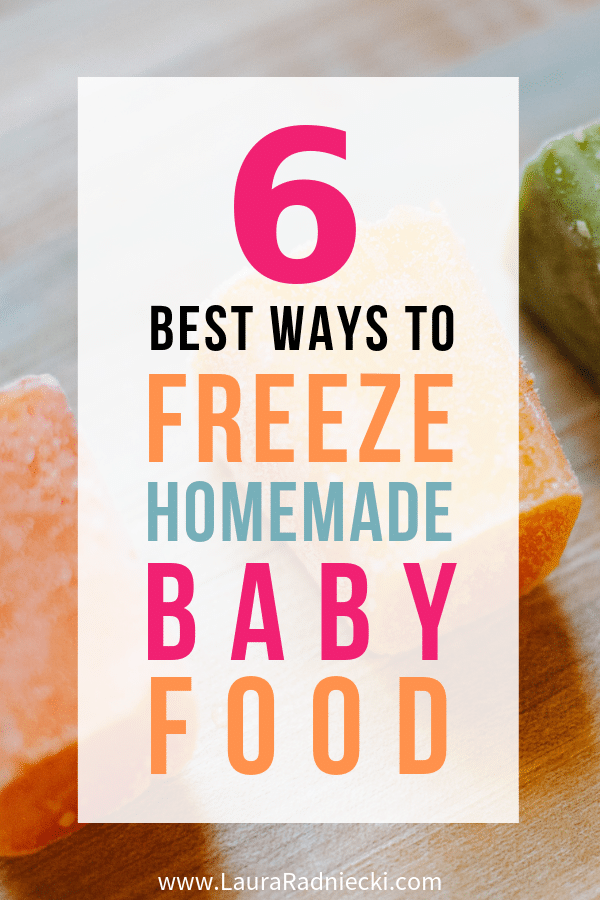 – If you liked this post, I would love if you would share it on Pinterest or Facebook. Thanks & xo! –