**These posts often contain affiliate links. Please see our disclosure policy for details.**
I set a goal to read 50 books in 2012. Recaps below:
This month, I read 7 more books.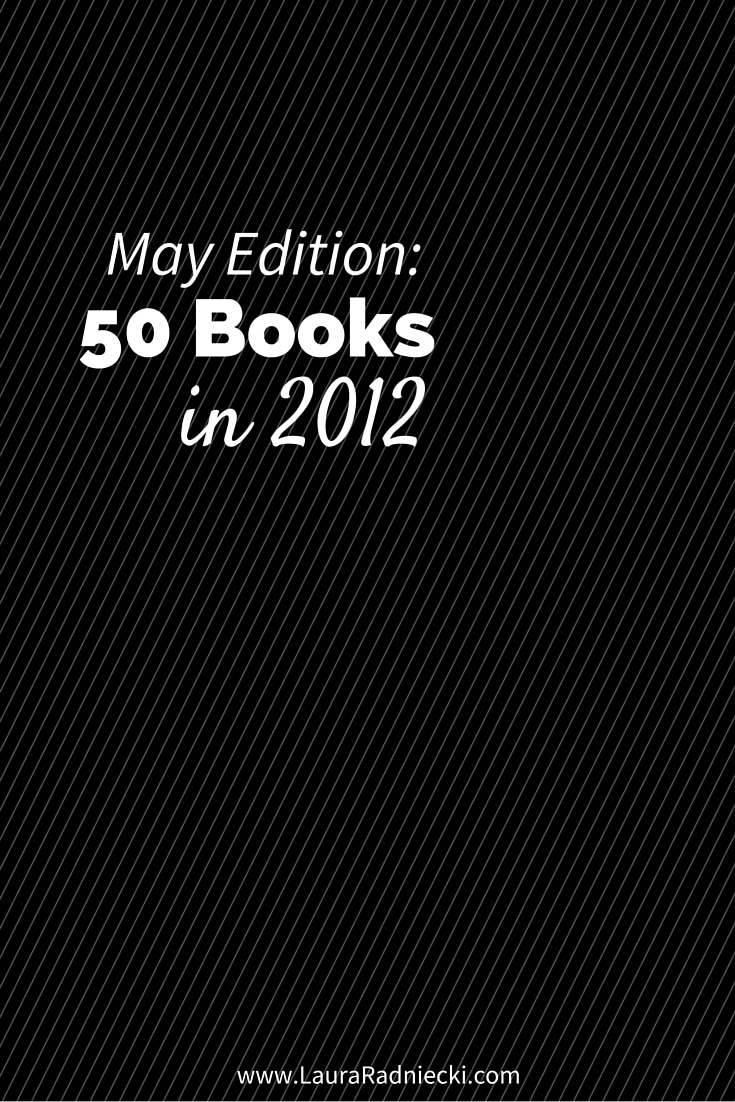 I read:
Night Road by Kristin Hannah
This book is one of THE BEST books I have ever read. It was devastating in parts and it gripped me in a way that no one book really has. It had me staying up late reading with my reading light, sobbing uncontrollably at night, while Matt slept soundly next to me.
I absolutely love Kristin Hannah's writing style and the way she makes the characters just feel so REAL.
Man's Search For Meaning by Viktor Frankl
I read this book based on a recommendation from a blogger I read often. It was a little bit over my head in parts, but it is an interesting read. It's partly the story of Frankl and his time in a concentration camp in  the 1940's, and it's also an explanation of his psychology principle: that the primary drive in our lives is to find what we find meaningful.
Frankl went through so much and miraculously survived. Actually, prospered.
If I Live To Be 100 by Neenah Ellis
This book came after the NPR radio series of similar nature. Neenah interviews a collection of 100+ year old people and basically lists their interviews in the book.
I found the book enjoyable and a little bit depressing. Mostly because the book was written in 2004 so without a doubt all the people interviewed are now gone. I really feel like the older generations have such amazing stories to share with us, so I enjoyed hearing some of their stories.
The book doesn't really have 'lessons' in it though, so as some have listed in the Amazon reviews, the title is a little misleading. It was a quick read that I enjoyed!
Firefly Lane by Kristin Hannah
Another book by one of my new favorite authors. This book is about two friends and how their friendship progresses over 3 decades. I enjoyed how the book spanned the decades and had references to whatever music/hair styles/clothing was popular in those days. I wasn't around in the 70's and I was a baby for most of the 80's, but I still found those parts entertaining.
This book isn't my favorite of Kristin Hannah's, but I still liked it. I made some assumptions based on the characters and what I thought was foreshadowing and I turned out to be way off base, so some of the characters were a little tainted for me. But I find the story of these two ladies' friendship extraordinary, and it made me hope that I can have a friend like that throughout the ages.
Buried in Buttercream by G.A McKevett
The newest book in the Savannah Reid mystery series, I waited months to read this book! And it was worth the wait. Without spoiling what happened – after reading the whole series last summer, and waiting anxiously for the past few months to see what would happen in this book, I am so happy with the outcome! I can't wait for the next book in the series!
Saving The World by Julia Alvarez
This book is very different than what I normally read. It's a book within a book – I can't comprehend how the author can dream up something like this! I really enjoyed it. It has a lot of history in the book – the story of how the Spaniards came with cowpox, using young orphan boys as carriers, to the Americas and vaccinated parts of the world against small pox.
The story stuck with me long after I finished it.
The Talk-Funny Girl by Roland Merullo
This book – WOW. I sometimes flip to the end of the book and read the ending, and I didn't for this one. I'm so glad I didn't, because I was totally surprised by the storyline. An amazing story of a girl in rural New Hampshire, and the brutal and sheltered upbringing she had. The story follows her as she slowly breaks free of the life that has held her captive for so long. I think I might need to look up some more books by Roland Merullo!
— That brings my total so far to 27 books. Have you read any good books lately? I'm always adding new ones to my 'To Read' list!