**These posts often contain affiliate links. Please see our disclosure policy for details.**
Yesterday, March 23rd, 2016, was our official Due Date!
It was a day that has been circled, highlighted and anticipated since we first found out we were pregnant last summer.
But like the vast majority of first pregnancies, our Due Date came and passed with no sign of baby boy making his arrival.
This might be the last pregnancy update I write before he arrives, so here we go!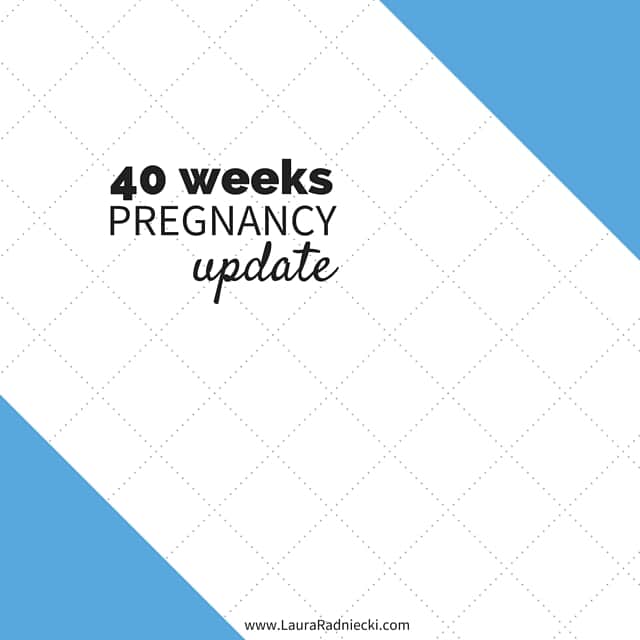 Weekly OB Appointments
I've had my regular weekly OB appointments since 34 weeks, with checks on progress since 36 weeks.
Every time I go in, I hear the same thing: "Nothing is happening yet."
For awhile, that was comforting to hear. I didn't want to delivery prematurely if I could help it, and I wasn't mentally ready for delivery yet.
Now that time has passed and I am officially past due, there's obviously no worry about prematurity. I'm still not mentally ready for delivery but I'm ready to meet our boy, so I'm ready to get the show on the road.
I have been trying to prepare myself for the fact that we could go all the way to 42 weeks before meeting him. I know lots of people who have had their first babies at 41-42 weeks.
But then, Matt and I started talking about how with this being Easter weekend, it would be a good weekend to have a baby. We started getting our hopes up a little bit.
So I was slightly disappointed when, at my 40 week appointment yesterday, the news of progression was still the same: "Nothing happening."
But ultimately, I know that God's timing is perfect, He is in control, and I am not going to be pregnant forever, even if it feels like I might be.
We will meet our boy soon, regardless of the exact day he comes on!
Family Time
We've been blessed to be able to spend some quality time with our families recently, in these precious days before life changes forever.
My sister and niece came into town, and we spent some time with them one weekend. It was also the weekend that we had glorious sunny, 65 degree weather in March, so we spent the time outside. We even had the first bonfire of the season!
My sister is almost 26 weeks pregnant, so we were able to take a photo together. We had guessed it might be our last chance to get a photo of our two bumps together. Now though, I think we might have one more chance this weekend at Easter to get one last one before baby boy arrives.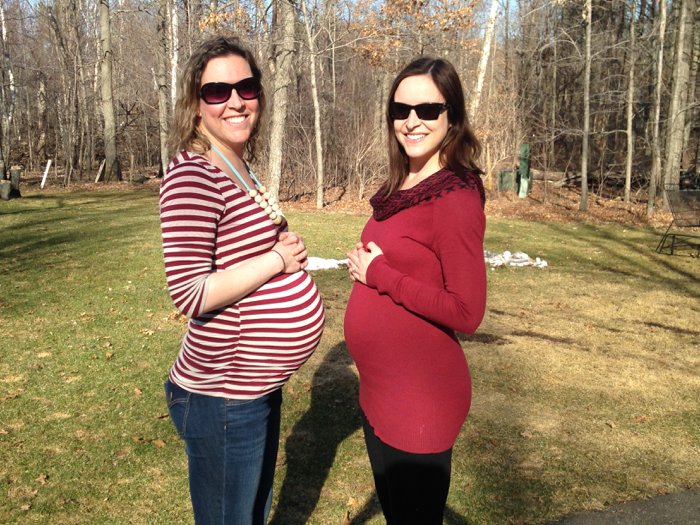 Last weekend, we were able to spend time with Matt's family while his brother was home, and we also went to dinner and watched a movie with my parents.
I've been spending the majority of my days elevating my feet on the couch, with Remy in my lap, so it was a nice change of pace to get out and see family before the big day arrives.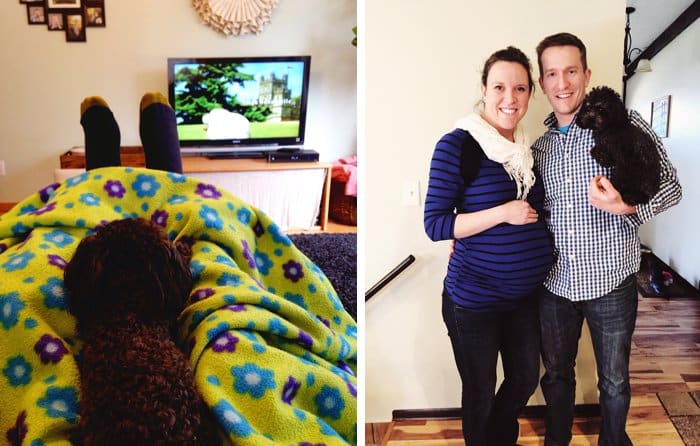 Pregnancy Reflections
As the end of my pregnancy nears, I've been reflecting on the past nine months.
It's strange how it feels like I've been pregnant forever, and at the same time feels like we just found out we were expecting.
Time is funny like that.
I know that these last few days/weeks are precious. I've heard time and time again that I will miss being pregnant once baby boy is here.
I don't doubt it. I know there's truth in that statement.
Things I'll miss about being pregnant:
Feeling baby boy move and hiccup in my belly.
Wearing tight, formfitting clothes that show off my bump without the slightest need or desire to suck in my stomach.
Feeling special because I'm growing a human, and receiving special treatment because of it.
Being able to coax a foot rub out of Matt in the evenings.
There are also a lot of things I'm looking forward to once I'm not pregnant anymore.
Things I'm excited about, when I'm not pregnant anymore:
Sleeping on my stomach.
Laying flat on my back.
Eating deli meat and Dairy Queen again.
Having my hormones regulate and hopefully clear up my skin, and make my body temp go back to normal.
Bending over without grunting.
Seeing my face shape and feet bones again.
Hopefully being able to wear my wedding ring again! [Finger joints, please go back to normal once the swelling is gone!]
It's been a remarkable experience being pregnant.
Watching my body change in front of my eyes is surreal and so weird and magical all at the same time.
I know it's all just a miracle.
And while I haven't necessarily been overly emotional about being pregnant and the end of this era, my first pregnancy, I am very grateful that God gave us this opportunity and walked through it with us. He's been there through all the ups and downs, joys and challenges that these last nine months have brought.
I'll never forget this time in our lives.
Ready for Baby Boy
The nursery is ready, and I wrote and scheduled a blog post that will go live next week: a Nursery Tour blog post.
Things are washed, folded, organized, and ready and waiting for him.
Our hospital bags are packed, minus the things we use on a daily basis, and we've bought some snacks to bring to the hospital.
Our freezer is stocked with freezer meals we made a few weeks ago, and we went to the grocery store just the other night to stock up the refrigerator. However, if baby decides to wait until 42 weeks, we'll need to make another grocery store trip before he arrives. Time will tell.
And Now We Wait…
The waiting is full of a lot of emotions.
It's like waiting for a big, huge event like a wedding, or even like waiting for one of Matt's Marine deployments. There are emotions, anxiety and uncertainty surrounding it, but this time, we don't know the day either. It could be tomorrow or it could be 2 weeks from now.
The anticipation heightens all the other emotions that go along with it.
I feel a lot of anxiety around the labor and delivery, but I know that a lot of it is the anticipation of everything that is making it all more apparent. Once things actually start, things move to "let's deal with this" mode and a lot of the anxiety will fall away.
Plus, I need to keep in mind the end result: meeting our son.
Because I've never had a baby before, and I've never gone through labor and had that baby placed in my arms at the end, I don't have a mental frame of reference for that fact. All of my times in the hospital have been for bad things, and have not really had a "reward" at the end of them.
But this time is different.
At the end of all of it, we will meet our son.
That's the part I need to remember most.
That, and the fact God is indeed with us and will walk beside us the entire time.
I am remembering my One Word for 2016: Surrender.
I am surrendering all of it and trusting that God, and my body, will bring us through to meet our baby boy.
– – – – –
Thank you for following along with us on this pregnancy journey.
Your joy has helped us celebrate this pregnancy and all of the milestones during it.
Writing updates has been fun for me, and will undoubtedly be something I look back on in the future.
I'm excited to continue writing about the transition to motherhood. I know it will be filled with lots of emotions, adjustments, and revelations in the months ahead.
I pray for peace, presence and intentionality as all of it unfolds.
xoxo,
Laura