**These posts often contain affiliate links. Please see our disclosure policy for details.**
Today, I am 36 weeks and 2 days pregnant.
I'm 5 days away from being considered "full term."
According to the baby book and the internet, baby boy is roughly 5-6 pounds, and 18+ inches long.
I know I've got a huge belly, but HOW is there a baby THAT big in there?!
This is all really just a miracle.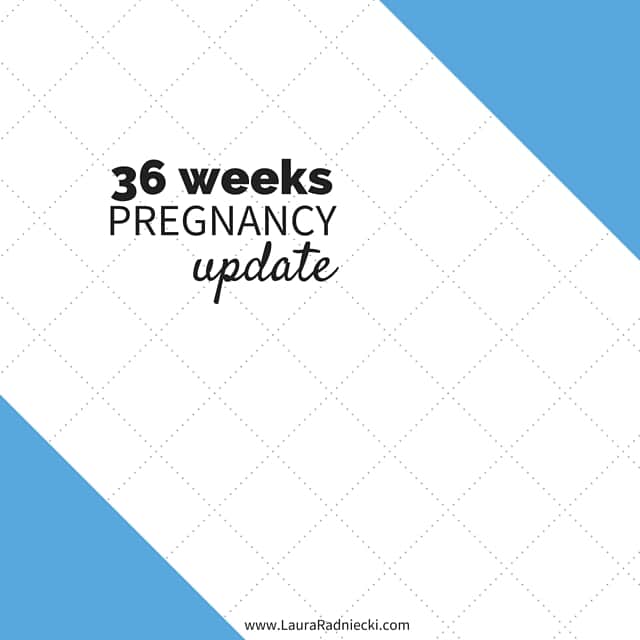 Weekly OB Appointments
I've graduated to the time of pregnancy where my OB appointments are now weekly.
My chiropractor appointments that I'm doing to ensure optimal alignment and hopefully the smoothest delivery possible mirror my OB schedule, so I'm on a weekly appointment schedule there too.
After going weeks in between appointments for the whole pregnancy so far, going in weekly feels like "I was just here!" Time is flying.
At my 36 week appointment, the doctor reported no progress which I expected. So, it'll likely be weeks yet before baby decides he wants to meet us.
I'm preparing to go overdue, like most first time moms do. I know there are always many exceptions. But chances are I'll see March 23rd come and go, and we'll still be waiting on baby boy.
I don't feel ready or mentally prepared at all yet [will I ever?], so I'm ok with him taking his time.
DIY Wall Art for the Nursery
I get a subscription to DIY Magazine; my favorite one of all time. It's a quarterly publication so each issue is a major treat.
I was reading one a month or two ago and came across a DIY wall art canvas they made with painters tape and paint. It had a fun geometric design and could be made as large as you want it to be.
I decided to try making one for the nursery because I wanted a huge art piece to hang above the crib, but I didn't want to spend much money on it. I figure I might replace it with a large photo canvas someday, but for now, I wanted something to hang up there while we wait.
I had big foam boards in my basement that I've used in the past for photo backdrops, so instead of using a big canvas as the base for this project, Matt and I cut the foam to size.
I wasn't sure what size I wanted the final artwork so we made two different sizes and I created identical artwork out of both.
All I used was painters tape and paint left over from painting our house. I used the magazine's canvas as a starting point and changed it a bit to suit the colors I had, and how it was looking.
I taped off and painted different sections, let them dry, and then taped off and painted new sections.
I love how the final piece came out. The colors are very much ocean/beach inspired which was my goal [our nursery and our house in general have what I call a "beach theme"] and I find the painting soothing and peaceful.
Since we already had the foam, it allowed us to make these paintings for literally $3. I needed to buy a sample of one of the colors so I could do touch ups, so I had Menards color match it and bought a $3 little container.
The downside to using foam though, is that it's not very durable. When I picked up the piece, if I squeezed too hard, I left finger indentations. It's very fragile and if this was going to be a long term art piece in my house, I would probably want to use a big canvas, or a piece of plywood or some other material that's more durable.
But because the point was to do this affordably and it was kind of an experiment, we made do and I'm pleased with the results.
The bonus of using the foam is that it's incredibly light. We used command strips to hang this up which is a plus to me. It seems less of a scary commitment to use command strips rather than nails haha.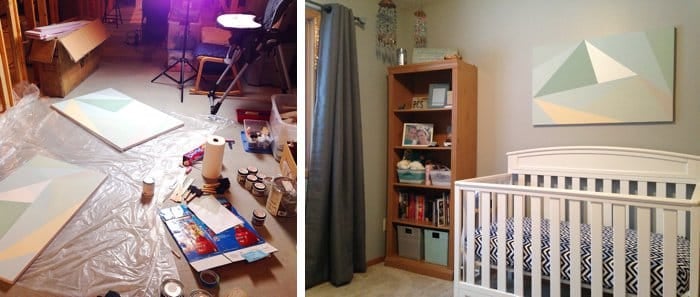 Making Family Memories
My sister, brother in law and niece came up to visit last weekend.
The weather was gorgeous on Saturday, and Leighton loves to play outside, so we spent a chunk of the midday out in the snow. My dad and Leighton made a snowman, and Remy ran around them, wearing her little red sweater.
It's amazing how fast Leighton is learning language and growing up. In the 6 weeks since I last saw her, her speech became so much more advanced, and it's so fun to hear her little voice say "Grandpa" and "Grandma" and "Remy."
We love you, Leighty!
It was fun to see my sister too, because she's also pregnant right now. She's almost 22 weeks, and is starting to have a distinct bump now. We always talked about being pregnant together, so it's a joy to be able to experience this with her.

Puffy Feet and Pedicures
My mom and I decided to get pedicures early this week.
I had a gift certificate to use, and my mom is going to Grand Cayman next week for Spring Break, so I thought it was a good time to get them done.
Plus, it's hard for me to bend over and reach my toes to paint them right now, [it involves a lot of grunting and huffing and puffing], so I wanted to get them done, knowing they'll last awhile.
We had a good time relaxing in the massage chairs, chatting, and having a pop at Wendy's afterwards.
My feet are definitely puffy, and no amount of elevating them seems to eliminate the swelling completely. I used to be able to see feet bones and now I can't. It's like someone stuck a needle in them and puffed in a little air. So weird.
All for a good cause, though!
I know some people say their feet get bigger size-wise during pregnancy and they stay that way afterwards too. I've worn big boots all winter so I have no idea how big my feet really are right now. I'm praying they go back to the size they were before, otherwise all my TOMS aren't going to fit anymore!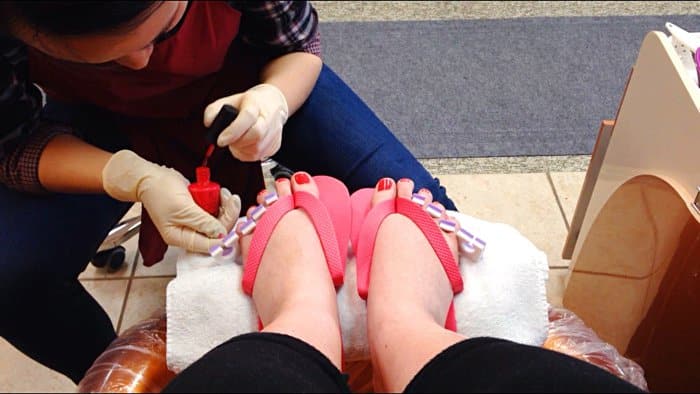 Taxes and Spaghetti
Matt and I had our taxes done this week.
I usually have a hard time paying money for things I can do myself, but taxes are one thing that I'm 100% ok with delegating to the professionals. Especially because of my business; the self-employment side of things makes the process more complicated. I'm thrilled to be able to trust it to a professional.
Things turned out well for us this year [it's always a little bit of a gamble and I hold my breath a little bit each time] so we decided to celebrate with a dinner out at Tasty Pizza North in Pequot.
I have many fond memories of going there with my grandparents in years past. It was one of their favorite places.
But I forgot how BIG the portions are! Matt and I each ate less than 1/3 of our meal and took the rest home.
It's weird to think that our opportunities for outings and dates with just the two of us are limited. In a few weeks, there'll be 3 of us in the booth!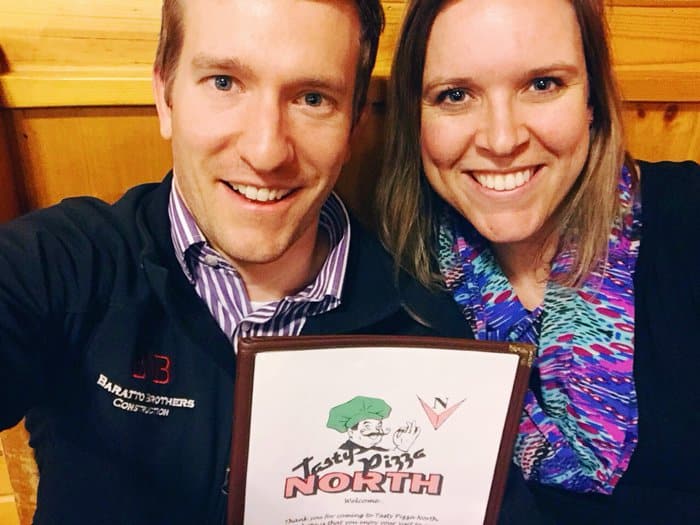 Stretching My Maternity Wardrobe
Over the last few months, I've reached the limits of many of my maternity wardrobe staples.
Some of the pants I bought now cut in too much on my belly and hurt me.
Some of the shirts are now too short with my huge bump.
They have been retired.
I still have a couple pairs of pants and a handful of shirts that I rotate through frequently, so I'm thankful for those. They will carry me through to the end.
I never did buy a maternity jacket this year.
I was able to wear [and properly zip] my two regular winter coats up until a few weeks ago.
My mom loaned me a coat she doesn't wear anymore that lets me zip it up on those really cold days.
But on these decently warm days, I've taken to wearing my lighter winter jacket when I go out.
But I can't zip it.
I just leave it open as I go about my business.
I don't know why, but I find it hilarious when I wear it open like that. I look down, and see a huge bump in the way.
Pregnancy is funny.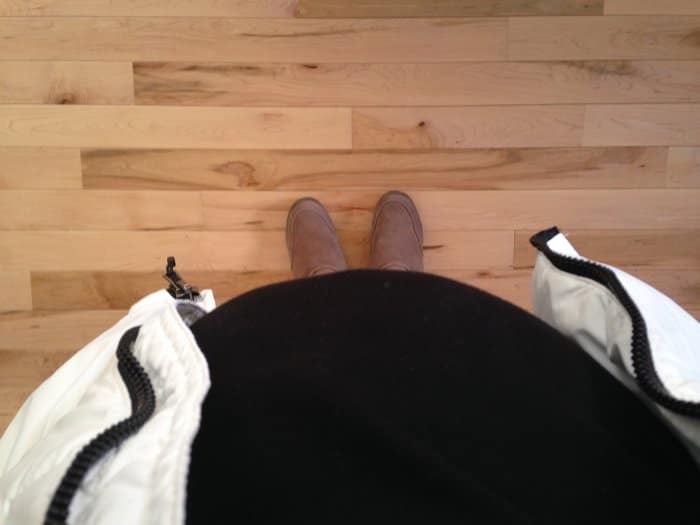 Labor Nerves
As the remaining weeks of my pregnancy dwindle and labor approaches, I am finding that my nerves and anxiety about labor and delivery mount.
I've educated myself as much as I can, we've done all the classes we could, I've talked to others, and I have my nursing background helping me know a little of what to expect.
I'm doing what I can to mentally prepare, including making a faith-based playlist, writing inspiring scripture verses on cards to refer to or have Matt read to me during labor, and praying daily.
All of that is well and good, but let's be honest, I'm still running at a heightened level of anxiety. I likely will be until I deliver.
I welcome any prayers you send my way – mostly for peace and courage.
I came across a prayer yesterday from the Ourprayer.com daily emails I get, that really spoke to me. I made a phone wallpaper image of it so I could reread it these last few weeks.
It said: "Lord, You know my fears. Please give me the courage to do what I fear I can't."
Amen to that.
I also haven't reached the point where I'm so uncomfortable that I just want to be done being pregnant.
I'm excited to meet our son, but I'm not to the point yet where I am so ready to be done that I'm wishing for labor to begin.
Who knows if I'll get there.
A lot can happen in the next few weeks as baby gets bigger and the room in my belly gets even more cramped. It's already started being noticeably more cramped these last few days.
If I start to feel that way in the weeks ahead, that might help me get a little more mentally ready, because I will start hoping for labor to begin. Right now, I'm still feeling nervous and afraid of it beginning.
Soon though, I'll write again on the other side of this and all the anxiety will have slipped away and been replaced by a labor experience to share and a baby in our arms.