**These posts often contain affiliate links. Please see our disclosure policy for details.**
As of today, I am officially 34 weeks pregnant!
That means I have 6 weeks until my Due Date, and 7-8 weeks or less until our baby arrives [considering I may be overdue as a first time mom.]
That also translates to roughly 50 days or less…
WOAH.
34 Week Symptom Update
Overall, I'm feeling pretty good.
I know a lot can still change in the last 6 weeks of pregnancy, and our baby will likely double his weight in the next 6 weeks. That probably means there will be more aches and pains ahead for me as things get even more cramped in there, and I carry even more weight.
But the back pain I had in December hasn't returned yet [knock on wood], and I have been feeling pretty good overall.
I have had a few nights where I had to sleep with a few pillows under my head because I felt like I had some acid reflux, and I have some mild swelling happening kind of all over my body [fingers, face, ankles, feet] but that is more annoying than anything. It's also expected.
I might be singing a different tune in the weeks ahead, but for now, I'm happy with my body for adapting to the extra weight so well, and I'm thankful for the relatively pain/symptom-free days I've had.
Insomnia
This is one of the worst things I'm dealing with right now, even though it's not a physical symptom: insomnia.
I know this is another common pregnancy complaint and really, it's probably a good thing because it will maybe help make the newborn days a little less of a shock.
But man, I'm struggling with sleeping well through the night.
My particular issue is that I wake up a couple hours into the night and I can't fall asleep for at least an hour, sometimes two or three.
I usually don't get up and go read or anything because I don't want to engage my mind. I'll pray instead, or try the best I can with my foggy middle-of-the-night brain. Mostly, I roll around, make exasperated sigh noises, and eventually fall back asleep at some point.
But one night last week, I was awake, feeling like I couldn't get enough air into my lungs. I kind of felt like I was suffocating, even though I was using 2-3 pillows under my head, and I was laying on my side like I'm supposed to. [Maybe baby was pushing on my lungs?]  I was wide awake so I went into the living room and read my book for awhile. I eventually ate a snack and went back to bed and was able to fall asleep for a few hours before morning came.
It's all a little bit of a shock to my system though; this not sleeping business. I have really loved my sleep this pregnancy and have taken advantage of my work-from-home, relaxed daily schedule with lots of sleeping in days. I'm gradually getting more and more tired with each restless night. I try not to nap during the day either because I think that will make the awake times worse at night.
I figure sooner or later, I'll be so tired that I'll get a good night's sleep. And if not, this is all good practice for many nightly baby feedings, I guess!
Registries Complete and Nursery Done
Matt and I went to Target last weekend and bought the remaining things from our baby registry.
I also bought the rest of our Amazon registry as well, so we are officially done shopping for baby! Until he starts wearing actual clothes that is, and then I'll have to hit up the St. Cloud baby thrift stores to fill in his wardrobe.
I have one hamper full of washed clothes and bedding to put away, and then his nursery is almost finished. The last thing that needs to be done is some photos/artwork made and hung up on the walls.
I sewed a slipcover for the cushions of the rocking chair my parents loaned Matt and I for the nursery. I also made a little pocketed bag that hangs on the side of the rocker to hold things like granola bars for my midnight snacking, and other things I want to have in easy reach while I'm in the rocker with baby.
Seeing everything come together is pretty awesome! Seeing it all with an actual baby in there too… that will be amazing and surreal at the same time.
I plan to take some photos of the nursery to document it and share once I get the photos ordered and a piece of artwork for above the crib made.
Birth Classes
We have attended all of the birth and education classes at the hospital that we plan to take.
We started with an Infant and Child Safety class that covered basic first aid, as well as CPR and choking.
Then, we had our all-day birthing class a few weeks ago.
With my nursing degree and the time I spent interning on the Family Birthplace floor [the same one I'll be delivering on – talk about coming full circle], the information was largely a refresher for me. I didn't learn too much that I didn't already know, but this time, I was viewing it from the perspective of the Mom, not the nurse.
The best part was watching Matt strap on the fake belly and feel what it's like to have that much extra weight on him. I asked him to bend down and pretend to pick something up off the floor and it was funny to watch him try to stay balanced.
That's probably why I struggle so much to get up out of the couch, and push the foot rest back in! There's lots of grunting involved these days.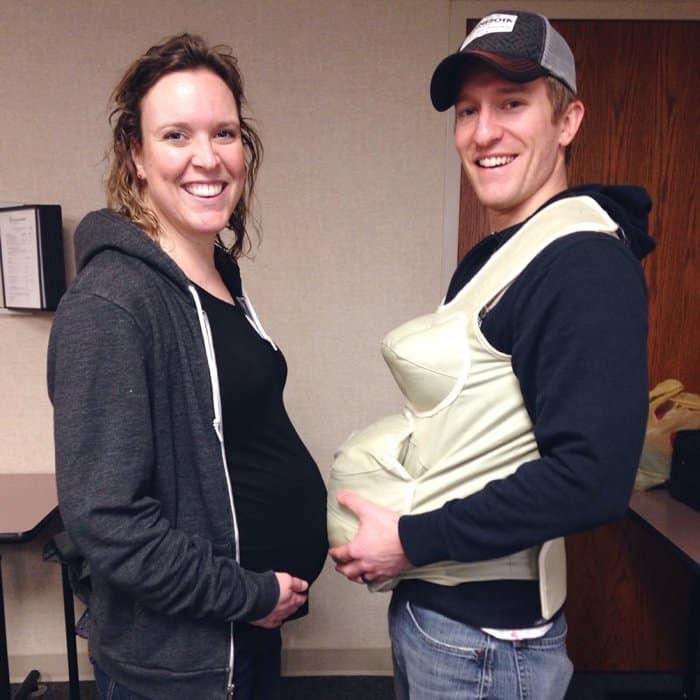 We also attended a breastfeeding class last week which was informative and slightly overwhelming. I know a lot of the breastfeeding journey is trial and error, as well as utilizing the resources that are available to us in the hospital and afterwards.
I'm trying to take a laid back, take things as they come approach to the whole labor, delivery, motherhood and breastfeeding processes.
As a Type-A, control-loving, anxious person, this is a little like trying to swim upstream against the current. But I'm doing my best, and praying a whole lot in the process.
I know so much of this whole experience that's coming is completely out of my control, so I'm trying my best to mentally prepare myself for that loss of control, and like my 2016 word for the year suggests: surrender to everything that will come, and surrender to God in the process.
Maternity Photos
This really deserves it's own post, and I'll try to do that in the next week or two, but Matt and I were blessed to be able to have our maternity photos taken by my amazing and talented friend Chelsie Elizabeth.
The day was warm for January, and I managed to find some outfits that I was happy with. I put on makeup and did my hair for the first time in weeks [when I walked out, Matt goes, "Woah – where'd Laura go?" Ha ha, very funny.] We spent an hour with Chelsie and she truly captured this time in our lives better than I could have ever hoped for.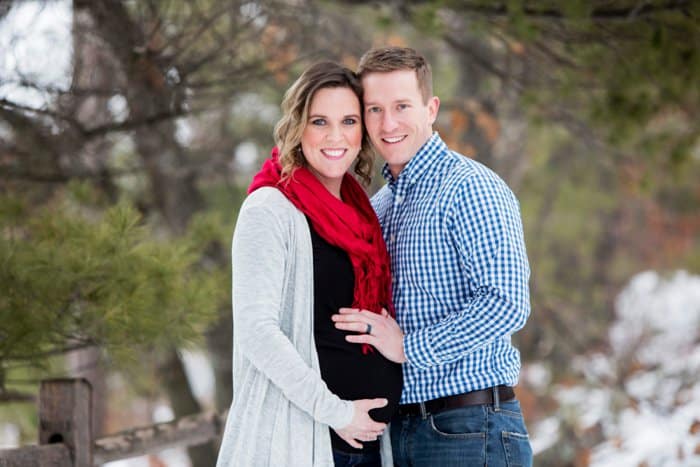 When I look at the photos, it's almost like a weird out of body experience for me, because that pregnant girl in the photos isn't just some client… it's ME.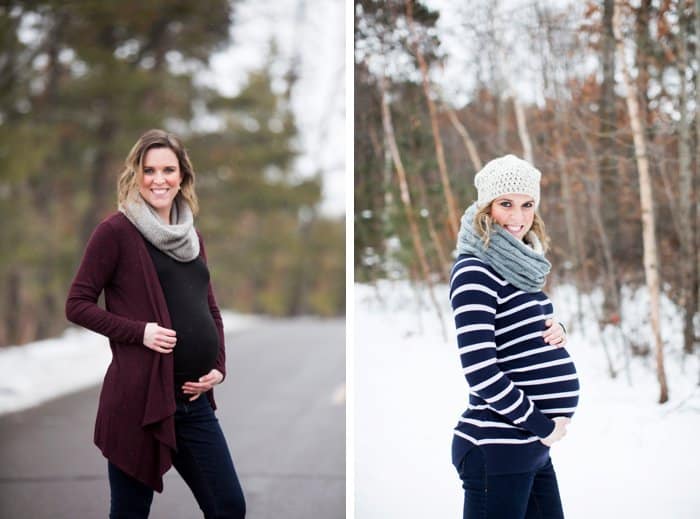 The best way to sum up this whole experience I think is to say everything is still just so surreal. Crazy that this is really all happening to US. To ME. OUR BABY. OUR family growing.
Yeah, surreal.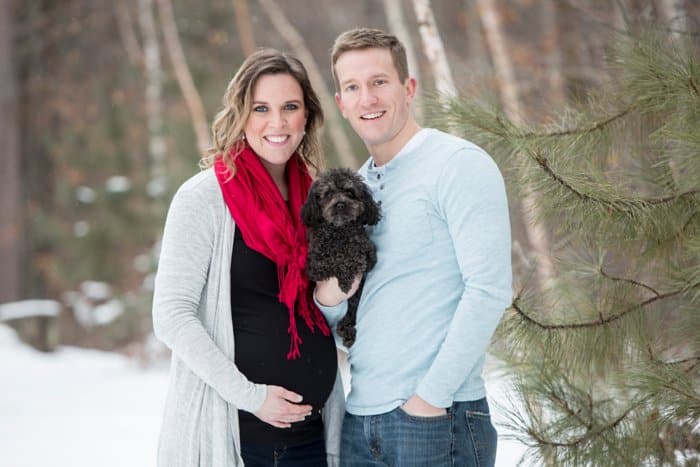 Looking Ahead
I'm at the time now where my OB appointments get closer together, as do my chiropractor appointments.
Tomorrow, my To-Do list includes making a Hospital Bag Packing List, and putting away the rest of the clothes and bedding in baby's nursery.
I've also got to make some preparations to make things easy on Remy when we go into labor, and decide what business tasks I can do in the next month before things get really crazy.
In a way, this time feels a little like anticipating the coming of one of Matt's deployments while he was in the Marines. Not that the birth of our baby is sad in any way – more like a BIG thing is approaching and it's coming whether you're ready or not. And you're just kind of passing time the best you can as you wait for it to arrive. You also know that your life is going to be very different when it comes, and there's some emotions that go along with that, at least for me there are, so you're trying to prepare yourself for what's on the other end of the change too.
Despite all of these feelings, emotions, nerves and unknowns, I know it'll only take a couple of weeks before I can hardly remember what life was like before baby boy was here, and I know I won't want to remember it much either.
Good things are ahead!
If you would like to add us to your prayer list, we would greatly appreciate it.
My biggest prayer, besides a safe delivery and a healthy mom and baby, is for peace – both now and as labor and delivery approaches.
As the days pass by and the weeks until delivery count down, my anxiety mounts. A lot of that is normal being a first time mom who has never experienced labor and delivery before, but a lot is due to my personality and my personal anxiety struggles.
My prayer has been and continues to be for divine peace to surround us in the weeks ahead, so the magic of this time isn't lost on me. I want to remember this, and I want to appreciate and enjoy it too.
xoxo,
Laura