**These posts often contain affiliate links. Please see our disclosure policy for details.**
I've fallen off the bandwagon a bit with my every-2-weeks pregnancy updates.
That's what happens when you work from home [often in your sweatpants] and don't wash your hair every day. It makes taking a decent bump photo hard.  Throw in a holiday and somehow, 5 weeks have passed by since my last update.
This week, we hit the 25 week mark in this pregnancy!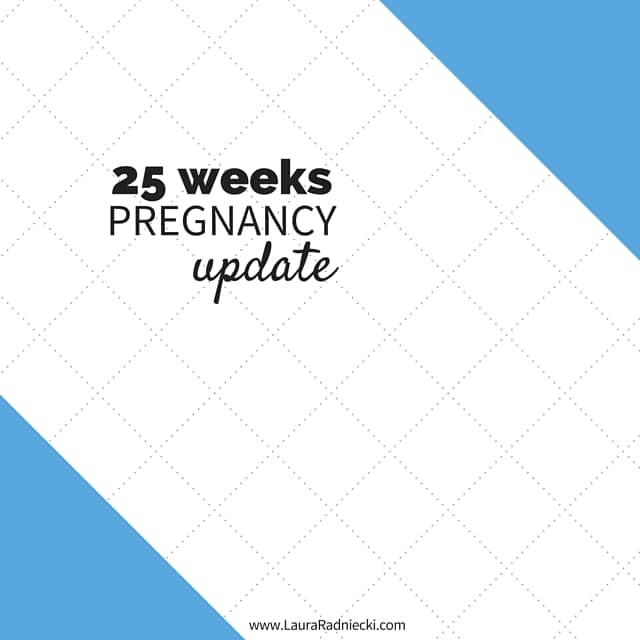 The Bump
I'm generally feeling about the same; overall pretty good but still having times of occasional nausea. I've accepted this is probably "normal" for me and I'm mostly ok with that.
I know several people who didn't feel super great their whole pregnancy, so I guess I'm less alone than the pregnancy book makes it sound — ["everyone feels great after 12 weeks!"]
I now look and feel like I've swallowed a basketball. There's a moment of surreal shock every time I see myself in the mirror, but I'm liking this new basketball phase.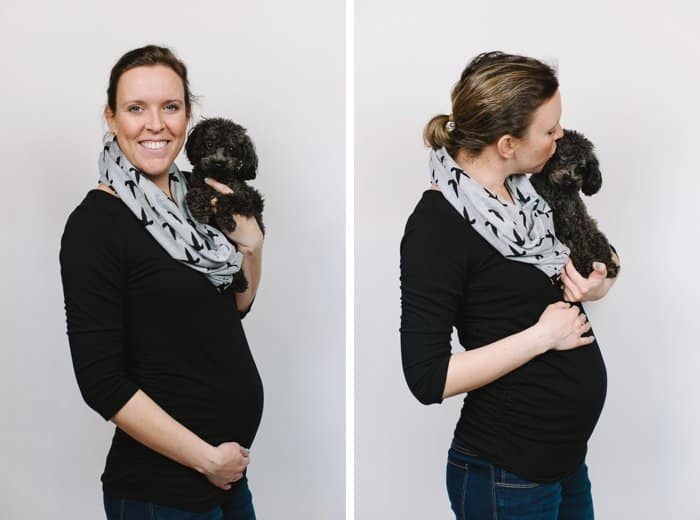 I have started to have some round ligament pain and occasional back soreness which I know is normal and expected. When I see how much the scale reads, I know my body is working overtime to carry this new weight.
My breathing has become a little more labored, like I'm working harder in daily life. I'm blaming it on the extra blood volume and all the work my body is doing to grow a human.
Matt took a super flattering video of me breathing in my sleep the other morning; it's embarrassingly funny how loud my breathing is. I'll notice it sometimes too when I'm just sitting around working on the computer or sewing. Having a stuffy nose from air dryness/pregnancy doesn't help make breathing any easier. I need to be more of a mouth breather for now.
Baby Kicks
I feel baby boy move all throughout the day and night now.
When I'm busy, I sometimes don't notice them, but if I stop and pay attention, more often than not, I feel him.
There have been a few times when I've been busy and will wonder when I last felt him.
I will then sit still and wait, and I'll be honest, there's anxiety while I wait for movement. I know babies sleep even in utero, and I can't expect him to be moving around all the time. I also know the doctors tell you not to get worried until there's been a decent length of time without movement, like hours or more, but still… my heart kicks up and I feel the worry flow. I pray he continues to move consistently enough to limit my worry throughout the rest of the pregnancy.
I haven't noticed anything resembling hiccups yet, and I've been told I'll know for sure once he gets them. Matt's been able to feel him many times now, and my mom was able to once too. I've been able to see a few of the kicks from the outside too, which is an amazing sight to me.
The Start of the Nursery
We completed our registry, and the plans are in motion for a local baby shower and one for out of town family.
My parents bought our crib and mattress for us, and we spent one night setting it up. Remy was involved by sniffing every piece we pulled from the box, and we let her test it out when we were finished. She wasn't too thrilled, but she sure looked cute.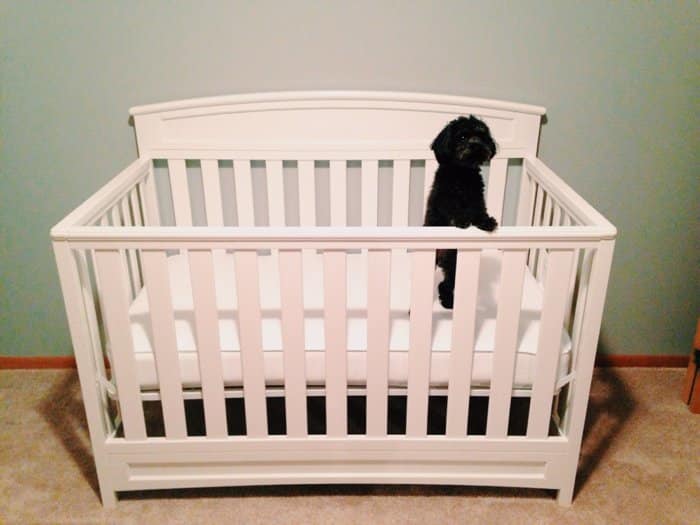 My cousin sold us some baby boy clothing that her son had outgrown, and that was a fun memory for Matt and I!
We marveled over how tiny newborn clothing is, and how little baby feet are. It's so weird to think that in a matter of months [103 days to our due date, according to our Target baby registry?!], our baby is going to be wearing those clothes. Not a hypothetical baby that we haven't met or seen yet, but our baby that we'll have named and will be holding, feeding and caring for.
Woah. Weird!
Birth Classes
My next OB appointment is the week of Christmas and I have the gestational diabetes test.
I'll also learn more about our options for birth classes which I'm looking forward to. I like to learn and be as prepared as possible.
Christmas Preparations
I've been sewing up a storm in my basement craft room; creating Christmas gifts I can't wait to give people. I'll post more about the gifts after the holidays! No spoilers for now!
I hope you are all enjoying this magical month, which is passing very quickly.
I'm trying to be mindful each day about noticing and appreciating something special, in an effort to slow the days down and enjoy each one.
I have Christmas shopped on one day, went to lunch with my dad on another, crafted the day away with a friend, and attended Matt's company Christmas party on yet another.
We shopped for the Giving Tree tags we chose from the tree at church, and prayed they would make the two children extra happy on Christmas when they got to open gifts just for them.
My book club had our annual Christmas party, and I won the Ugly Sweater Contest for the 2nd year in a row. I wore Matt's masterpiece this year, because my sweater from last year does not fit at all anymore. Matt's handiwork was clearly as ugly as mine!
I hope to continue being as intentional as possible as each day of this favorite month of mine passes. It's busy and stressful, but it's also such a good time of year!
I have more to say about my 30th birthday which was yesterday, in my next blog post.
xo!
Laura