**These posts often contain affiliate links. Please see our disclosure policy for details.**
This week, we reached the 18th week milestone of this pregnancy.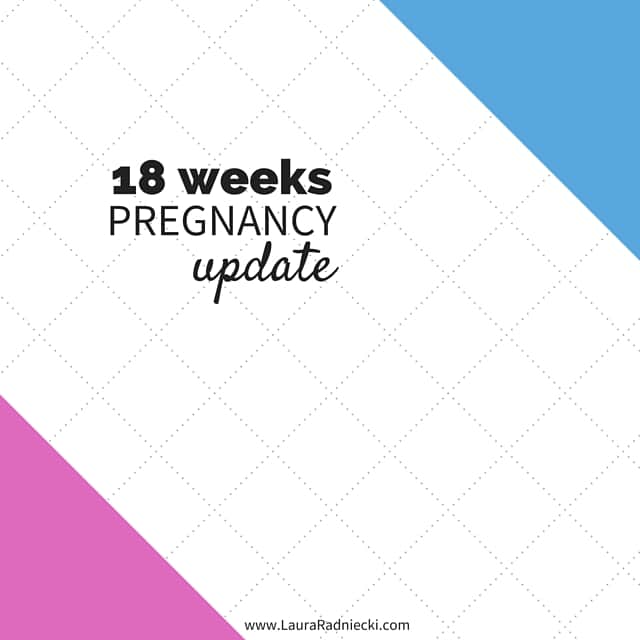 In a way, it feels like I just found out I was pregnant, and on the other hand, it feels like I've been pregnant for a year.
We're 2 weeks away from the halfway mark, which is a pretty neat thought.
If this pregnancy were a mountain, we're almost to the peak, and then gravity will help us pick up speed as we start down the other side, whether we want to or not. I know time will speed up as the holidays approach and our days as a family of 3 [Matt, Remy and I] are numbered.
Matt and I were talking about next spring and summer the other day, and I often forget when I'm picturing next year that our lives will look very different. When we are talking about the different things we'll do or places we want to go, I forget that we'll be bringing a baby along!
A Family Of Four
Last weekend, Matt and I carved pumpkins in anticipation of Halloween. We also bought 2 little pumpkins; one for Remy and one for Baby Radniecki.
When we were finished, I posted a photo of our carved pumpkins with the two littles ones on social media with a comment about us as a family of four. Matt, me, Remy and baby.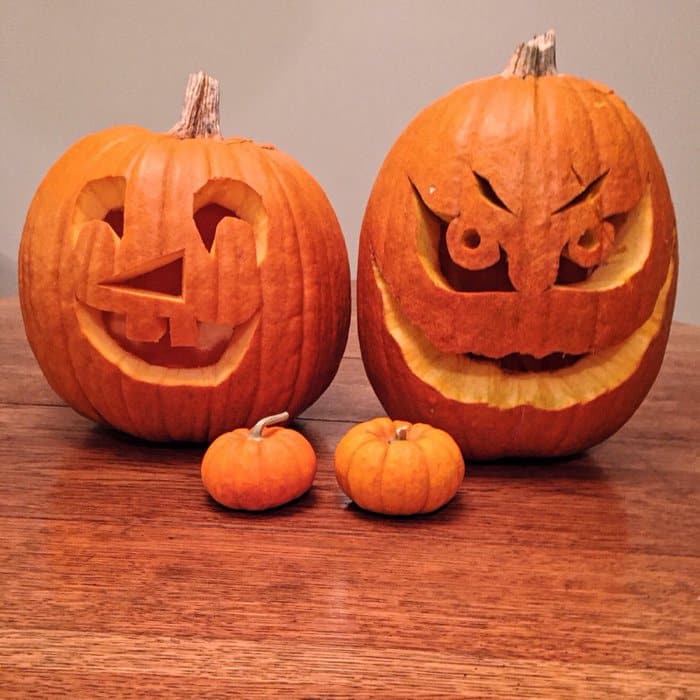 It never occurred to me that people would think that was an announcement of us having twins!
Hahaha, that still makes me laugh.
No, we just consider our dog to be our first baby, so we're going from a family of 3 to 4 in our minds.
And as far as my previous ultrasounds have shown, there is only one Baby Radniecki coming in March.
Big Ultrasound Coming Up
In less than two weeks, we will go in for our 20 week Anatomy Scan ultrasound, and we will hopefully be able to find out the gender of baby Radniecki.
I didn't realize how much time they say this appointment will take. They told me the ultrasound is an hour and then I'll have a visit with my doctor to go over preliminary results after that. I was surprised it would be such a long appointment!
I feel a hearty dose of nerves and anxiety as this ultrasound approaches. This will be the opportunity for an in depth look at baby, and for any issues to be noticed. There is the nagging worry of "What if something is wrong?" or "What if they find something bad?"
I talked about these worries and fears with my therapist this week and we agreed that it's normal to have some worry about this scan and about the unknown and potential for problems.
As this appointment approaches, I'm praying for peace and trusting that God already knows everything about this baby. He'll be at the appointment with us.
I'm also hoping baby cooperates and we can find out if we're having a boy or a girl!
Of course, I've heard a lot of stories lately about people who were told one thing and then found out when their baby was born that the scan had been wrong. I'm trying to not think about the chance of that happening, because I'm not sure how my anti-surprise, slow-to-adapt-to-change self would react to thinking we were having a girl for 20 weeks only to find out it was a boy, or vice versa! I'd probably faint.
Starting on the Registry
When my sister was up visiting a few weeks ago, we went to Target and spent an hour in the baby aisles.
She had her first baby [my first ever niece] a year and a half ago, and so she walked through the aisles with me and pointed out what she used and found helpful. I scribbled notes on a notepad and took photos of the products to use as a reference when Matt and I make our baby registry sometime next month.
It's exciting and crazy to be walking through those aisles, thinking "pretty soon, this stuff will be in our house!" Soon, our guest room will be a nursery, and along with Remy's toys, our living room with have baby toys in it too!
Movement, Maybe?
The baby books say that it is possible I could start feeling movement anytime now. Some people feel it sooner and some later, depending on a lot of different factors.
The books also say that a lot of times, women will feel movement but mistake it for gas or regular digestion.
This week, I feel like I have maybe/probably felt some movements of baby, but I can't say 100% sure that yes, they are baby and not gas.
I don't know when I'll be able to concretely say that without a doubt, that was baby moving. I have talked to lots of people that weren't able to tell for sure until later on, when they could actually see baby kicking their stomach and moving it so much you could see it from the outside.
I've been praying that God helps me distinguish baby's movement for sure sometime soon. I am excited for the times when I know without a doubt that what I feel is baby, and not possible air bubbles.
All of these little things make it more real that yes, there's actually a baby growing in there!
The Bump Grows
My belly is continuing to get bigger daily [duh], and it's often surprising to look at my profile in the mirror.
When I look down from my vantage point, my belly looks huge to me.
I know I'll laugh at that statement in a few months when I really am huge and it makes this stage's bump look like I ate a big cheeseburger.
Matt and I went on a leaf drive a week or two ago when the leaves were in full peak color, and he snapped a few photos of me before we left.
You can tell I'm a novice at these bump photos; I didn't pick very good colors to highlight the bump, and I haven't perfected the pregnancy pose yet. Plus, I can't look down at my bump or the camera picks up a super flattering view of my double chin… But I'm learning.
I think the important part is having a few photos of my growing belly because it'll be fun for baby to see them when they get older. Baby book material!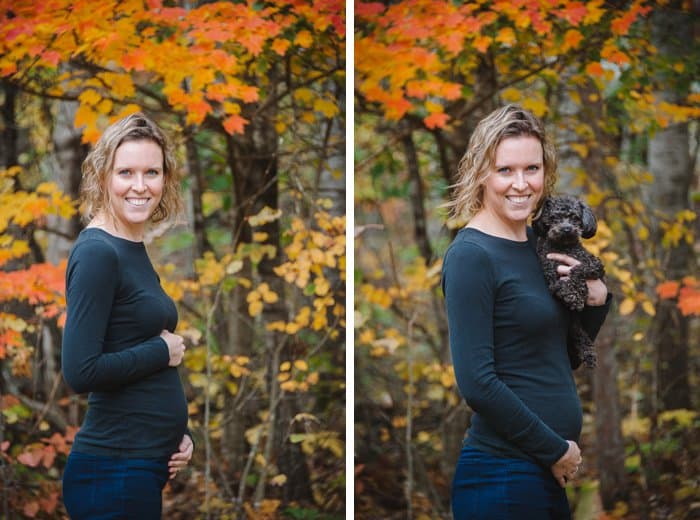 These photos were at 16.5 weeks.
Symptoms and Crazy Dreams
I'm still having a lot of the same symptoms as I have been; dealing with lingering nausea and feeling generally less than top notch, as well as frequent headaches.
I thought things maybe were getting a little better at the beginning of this week, but the last two days have been a little worse again.
All for a good cause though, right? I sometimes throw pity parties but overall, I am maybe getting a little tougher, or just getting used to not feeling fantastic.
I'm thankful that I haven't felt too tired and fatigued overall. However, I haven't gotten up before 8:30am in 4-6 weeks… But during the day, I haven't been all that tired.
I haven't been super energetic or enthusiastic because of the lingering "ick feeling" symptoms, but I have felt good enough to shoot the sessions I have had and edit and deliver the photos to my clients.
I'm continually thankful for my work-from-home job, and I have enormous respect for the pregnant mamas who don't work from home, and have to dress up, wear high heels, and can't plant themselves on the couch of they're not feeling the best. You are my heroes!
I'm also having a little bit of a hard time adjusting to the new rule that I shouldn't be laying flat on my back anymore.
When I read on the couch, I often lay flat on my back with my head propped up with pillows, but the books say I should start tilting to one side or laying fully on my side.
I also find myself waking up in the morning a lot laying flat on my back. I know I don't sleep that way the majority of the night [I used to be a stomach sleeper but I'm trying to be a side-sleeper with the help of a pillow between my legs now], but I guess my body goes that way when I do the early morning doze-wake-doze once Matt gets up to go to work.
I'm trying to prevent that because I know about the pressure on the blood vessels etc, but changing habits is tough!
I have started to have some crazy pregnancy dreams recently too, which I have heard are common.
Last night, I had a dream that our baby was born, and it turned out she was a girl, but she had a full beard! I was distraught in the dream, crying, and decided to contact my doctor to ask about electrolysis.
It was one of those dreams that you feel stressed and emotional about for 30 seconds after you open your eyes, but then you think about it and you go "WHAT the ?!?!"
Thank goodness the chances of babies being born with full beards are slim.
– – – –
The next time I post an update, I'll hopefully have gender news to share!
Until then, I'll be adjusting to new sleeping and relaxing positions, taking it easy and looking for pants that can accommodate this growing bump!