**These posts often contain affiliate links. Please see our disclosure policy for details.**
A Must-Have list of the 13 baby items you didn't know you needed. Add these to your baby registry!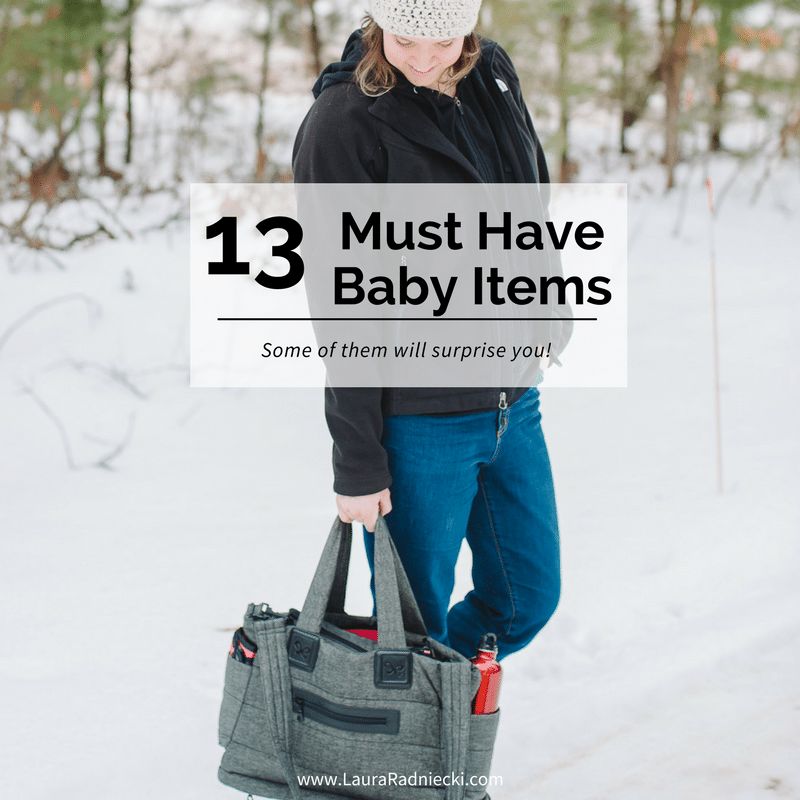 Babies don't need much to survive.
If you are having a baby, all you really and truly NEED are diapers, a way to feed the baby, and something to keep the baby warm with. And of course, love to shower your baby with.
But there are approximately 47,293 things that FEEL like needs when you're considering what to buy when you're expecting.
Part of me hates these kinds of posts and articles because it's already so easy to accumulate SO MUCH STUFF. Babies have a way of multiplying the stuff in your home by double or more, easy.
Plus, as a first time mom who knows nothing about having a baby, these kinds of posts can make you feel like you need to buy everything everyone else uses and loves, and pretty soon, your house is packed to the gills and your wallet is empty.
I read posts like this and bought all kinds of things before having Raleigh. Some of the things I bought I never used, and others, I realized I could easily have lived without.
Now that Raleigh is almost a year old, I have been knee-deep in this motherhood journey for long enough to have discovered my list of 13 must haves for raising a baby.
Take these recommendations with a grain of salt; they are the result of my specific journey into motherhood. But each of them are items I didn't realize how much I would use, and that I truly wouldn't want to do without.
1. A diaper bag you LOVE
I knew that a diaper bag was important before having Raleigh. I mean, you take it everywhere with you and it holds everything you might need when you're out.
But I didn't realize how picky I would be about the diaper bag I used.
I have gone through at least 5 different diaper bags, looking for the style and look that suited me best. I ended up finding a simple tote bag at Target that I used as a diaper bag in the warm months [pictured in #6], and I carry a CiPU tote style diaper bag in the colder months.
Some things to consider when choosing a diaper bag:
Style – Do you want a backpack, cross body bag or one with purse straps. Both of my bags have purse straps and a cross body strap that is detachable. I carry them different ways at different times, and I love having the choice.
Color – Think about what color will best suit your life and wardrobe. It will become your permanent accessory for awhile so make sure you love it
Storage – You'll want to carry a zillion things with you, so make sure you can fit a lot in your bag. My summer tote bag was one open area, so I used gallon ziploc bags to separate my items after seeing my sister do the same thing with her diaper bag. One bag was diaper, wipes, diaper cream etc. One was spare clothes. One was toys. This helped keep things organized in an otherwise huge pit. The CiPU bag I use has 13 different compartments which helps me keep things separate and organized.
2. A video baby monitor
I know this is a luxury.
An audio baby monitor that lets you hear your baby cry would do the job of keeping tabs on your baby just fine. The audio-only monitors are much cheaper than the video versions.
But.
My video baby monitor is one of the baby products I have used the most in the last year. I have used it for every nap and every night since we bought it when Raleigh was a newborn. If hours of use determine if a product is worth buying or not, this has been worth it's price many times over.
We initially bought a different video monitor. I think it was maybe motorola brand? It was fancy; it had an app that let you see your baby on your phone. But the night vision of the camera was TERRIBLE. You could barely make out the shape of a baby on the screen. It was just awful.
My sister had been using the Summer Wide View camera daily with my niece, and they loved it. Their monitor was a constant companion at bonfires and card games, allowing them to keep tabs on Leighton from a distance.
After returning our terrible night vision camera, we bought the same Summer Wide View camera. We have used it daily since then and I continue to be so thankful we have it. The only sign of it's constant use is the battery has been getting low faster than before. But that's to be expected after hours and hours of use.
Being able to see Raleigh has made sleep training so much more bearable. If all you do is hear your baby bawling, it's easy to imagine the worst. Are they ok? Is their head stuck in the crib railing? Are they bleeding? Maybe they're having a seizure? I have to go in there!
With the video monitor, I can see what he's doing. I know if he's standing or sitting. When Raleigh wakes up in the middle of the night crying, I can watch to see when he sits back down and when he's laying down and close to sleep.
A video baby monitor might not seem like a worthwhile expense at first because they can be pretty expensive. But the peace of mind it's given us over the last year, especially during sleep training with Ferber when Raleigh was 4 months, and our sleep training journey now, it's worth it's weight in gold to me!
**Note: As I was looking for the link to the specific video monitor we have, I learned there is a new version 2.0 of our camera. Here is the link to the Summer Wide View 2.0 Video Baby Monitor.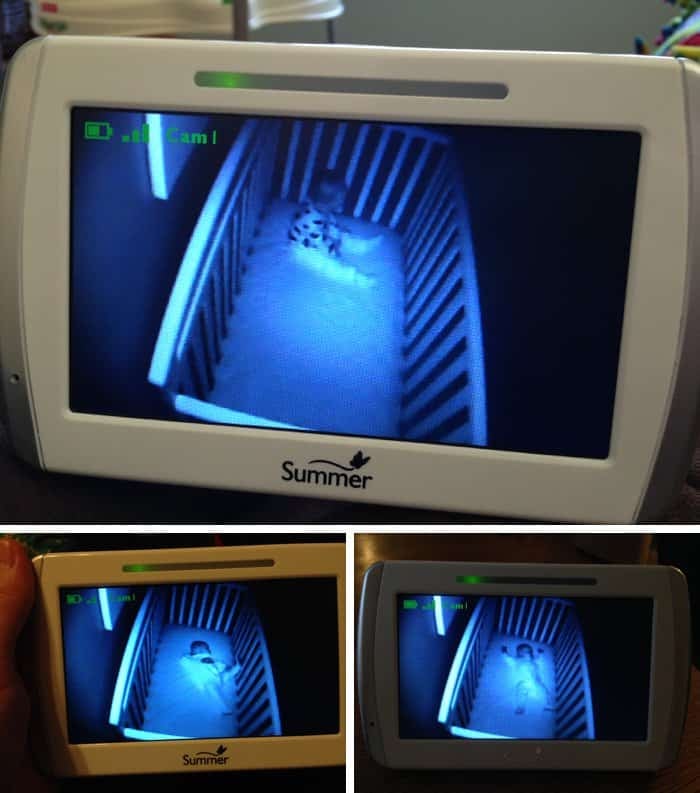 3. A comfortable rocking chair with an ottoman
Before Raleigh came, we put a hand-me-down rocking chair that I made a quick slip cover for in his nursery. With all the expenses involved around having a baby and paying for the hospital stay, buying a new rocking chair for several hundred dollars when we had one that worked fine seemed unnecessary.
However, all it took was a couple feeding sessions in that hard, squeaky rocking chair to make me hit the add to cart button on a gray glider rocking chair with a matching ottoman on Amazon. 
I don't know the number of hours I have spent in that glider, but if I had to guess, I would say at least a thousand. Having a comfortable chair with a gliding ottoman to rest my feet on that gently rocks has been priceless during those feedings.
I think a comfortable glider is crucial if you are nursing. But I think it's also important with bottle fed babies too because having a comfortable chair to feed in at night makes it just a bit easier to be awake at 2am.
My chair is so well used, there is literally a Laura-butt imprint in the seat cushion.
4. A Hands Free Pumping Bra and A Good Breast Pump
This applies only to nursing mamas, obviously. But for nursing moms, I can't recommend both a good breast pump and a hands free pumping bra enough. Of the baby items I have used almost daily since Raleigh's birth, these are up at the top.
Moms who plan to breastfeed might not think they need a breast pump. If nursing comes easily for you and your baby, and you are able to be with your baby constantly, you might not need to use a pump.
But a lot of times, nursing might come with hiccups and setbacks. And even if it doesn't, and you spend the majority of your time with your baby, it's still nice to have some milk in the freezer so you can go on a date and leave your baby with grandma.
In my case, Raleigh and I had a heck of a time with nursing in the early weeks. From week 3 to week 12, I was pretty much an Exclusive Pumper. I pumped 7 or 8 times a day and fed him breastmilk in bottles.
I felt like I was hooked to my pump continuously; I spent 3-4 hours a day hooked up to it during those early weeks. Thank goodness Raleigh was content to be in his baby swing or bouncer chair during those weeks.
It was a hard season of huge sacrifice in order to feed my baby breastmilk.
I was thankful to have a great breast pump to make all of it possible. I was also very thankful for my hands free pumping bra to at least free up my hands while I was pumping. I could eat, read a book, write in my journal or talk on the phone while I was pumping. I used mine so much, I bought a second one so I could rotate them as I washed the other.
Most insurances cover breast pumps. My doctor wrote me a prescription for one and I filled it at our local medical supply store. I got the Medela Pump In Style Advanced Breast Pump.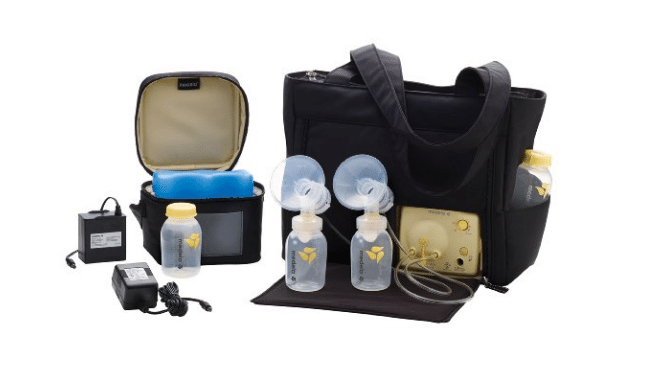 I bought this hands free pumping bra on Amazon, and I bought a another similar one at Target. It looks ridiculous but I swear, it is so worth it!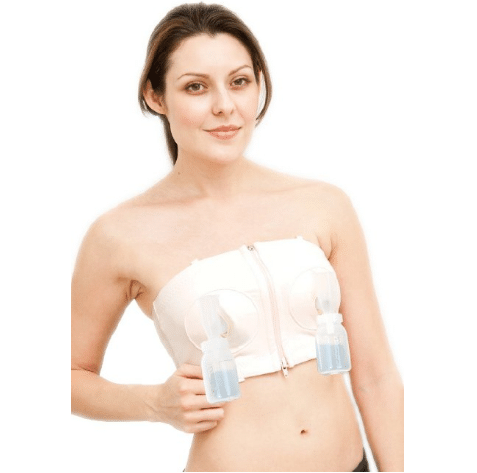 5. Basket for diaper changing station
I added this diaper changing basket to our baby registry on a whim because I thought it was cute. I'm of the mindset that you can never have too many baskets, totes or bins. Sometimes, I have baskets inside my baskets!
This little basket has turned out to be so convenient over the last year. I keep it stocked with diapers, wipes, diaper cream, lotion, hand sanitizer, Tylenol, finger nail clippers, Baby Vicks and some toys to distract Raleigh and try to keep his hands occupied during diaper changes.
It not only helps me keep everything in one place, but it makes it easy to move it all if I need to.
When we first brought Raleigh home from the hospital, we set up camp in the living room. I couldn't lay flat after my c-section for several weeks, so we slept in the living room on the couches. We changed all of Raleigh's diapers on the living room floor, and this basket created a little diaper changing station in the middle of the living room.
Then, when we were ready to move to the nursery once I was feeling a little better, it was easy to move everything.
I wasn't sure if it would be a useful addition to our registry, but having everything in one place and portable made the basket a great item to have.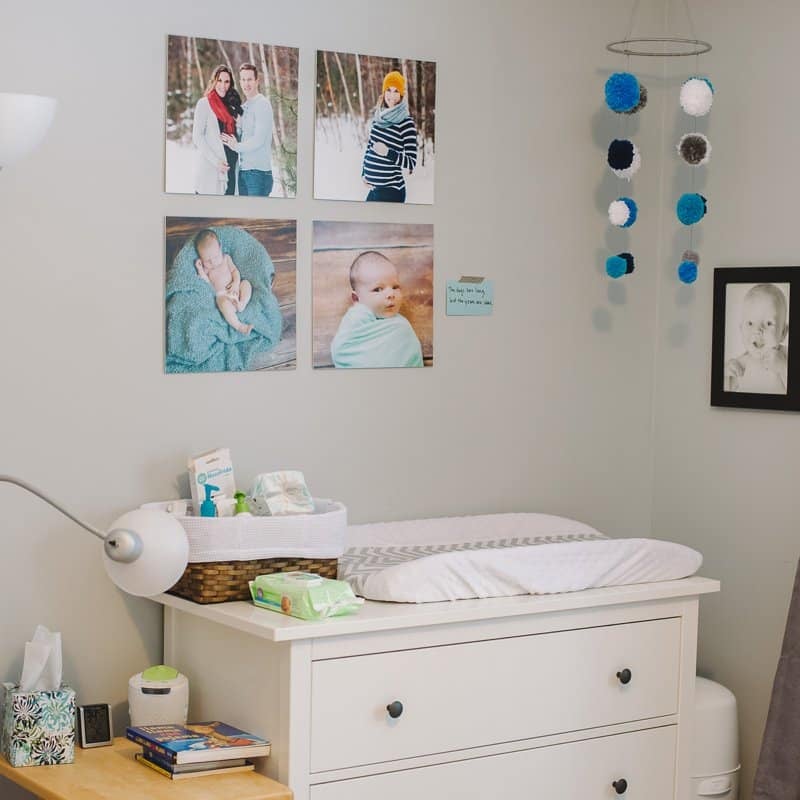 6. Large carabiner to use as bag hook on stroller
I think I first heard about this tip on one of those popular life hack articles that circulate the internet.
Sometimes those tips can be pretty lame but this one is genius.
We bought two large carabiners, one for each of our strollers, and they make the perfect place to hang the diaper bag on.
The baskets under our strollers aren't big enough to fit the diaper bag in. I have big diaper bags! So instead of carrying the diaper bag on me, the carabiner is such a cheap and easy solution.
I use it every time I use the stroller and have my diaper bag with me.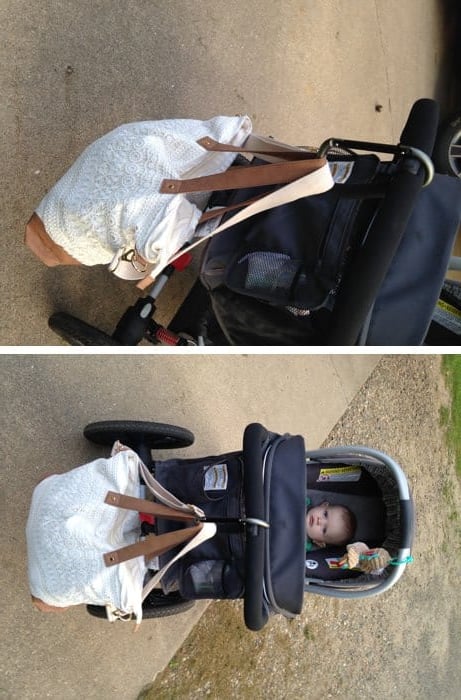 7. Bug net for stroller, pack n' play, rock n' play etc.
This is geographically dependent, but if you are in an area with mosquitos or other pesky insects, this bug net is a lifesaver.
Our pediatrician told us not to use bug spray on Raleigh as a newborn. He was only 2 months old when summer rolled around in Minnesota last year, and with it came the mosquitos.
They got so bad that it was nearly impossible to take walks outside. I would be constantly waving my hand in front of Raleigh's face to brush off mosquitos and he would still have welts when we got home.
My mom suggested I buy a bug net and they're so cheap on Amazon, I decided to give it a try. It's maybe not the cutest addition to the stroller but it was seriously one of the best things I bought all summer.
I could now take walks with Raleigh without worrying he would be covered in bug bites by the end of it.
One thing to note – this would not work with him now that he's older. He would rip it off the stroller in a second. But now that he's older, he can wear bug spray to keep the bugs away. When I used this bug net, he was still small enough that he didn't notice or care about the net. And once he started noticing and reaching for it, I pulled the net as tight as I could to keep it as far away from his hands as possible.
It offers a way to keep the bugs off during the time when bug spray isn't recommended.
Some people also use it over the top of a Rock n' Play or a Pack n' Play to keep the bugs away.
Not bad for a product that costs less than $10!

8. Crib rail covers to protect the crib from your baby, the beaver.
I didn't realize that kids chewed on their crib rails. Apparently this is a common problem.
One day, I heard some weird noises through the video monitor and when I went in to investigate, I found a baby with white paint chips all over his mouth and a crib with gouges all over the railings.
Raleigh is part beaver.
That evening, I sewed some covers out of leftover fleece fabric I had in my stash. They have worked well, except I have needed to add additional stitches to the bottom twice to more securely attach them to the railing. Raleigh was able to move it to the side in parts and continue to bite the railing. I think I've got it secured now.
There are different crib railing cover options available to buy if you're not interested in making your own.
I didn't know biting the crib railings was an issue for kids, but apparently my niece did it and from the forums I found online, it's a common occurrence. I made a set of covers for the crib at my parents house too. Raleigh did some damage at their house too.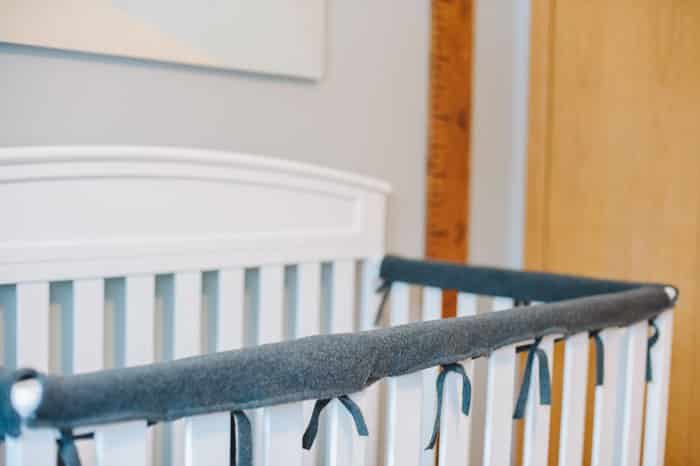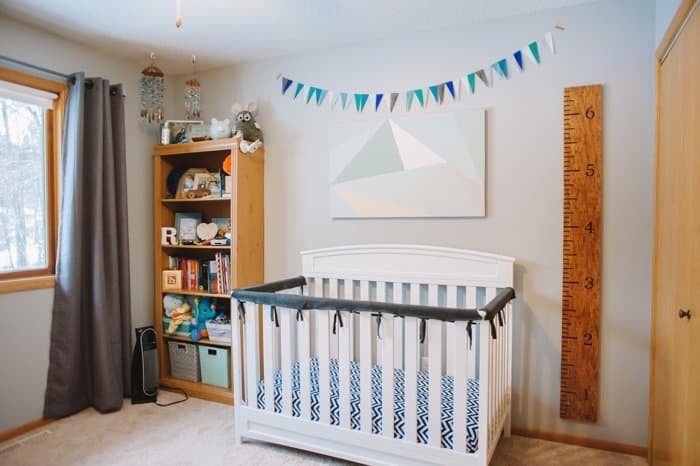 9. Pacifier clips to use for toys
I made some pacifier clips before Raleigh was born, thinking that they would help keep his pacifiers close by and off the floor.
He never liked a pacifier though, so the clips went unused.
Once he started playing with toys, the clips became useful again. Pacifier clips make a great toy clip to keep baby's toys off the floor!
Regular length clips would work fine, as long as they are clipped someplace to allow room for the toy to be played with, without pulling. Maybe clipping it to their sleeve.
I made the clip that's pictured below extra long on purpose so that Raleigh would have more room to play, if the clip was hooked to his shirt. It is too long though; if he drops a toy at church while we are sitting, the toy sometimes reaches the floor and defeats the whole purpose.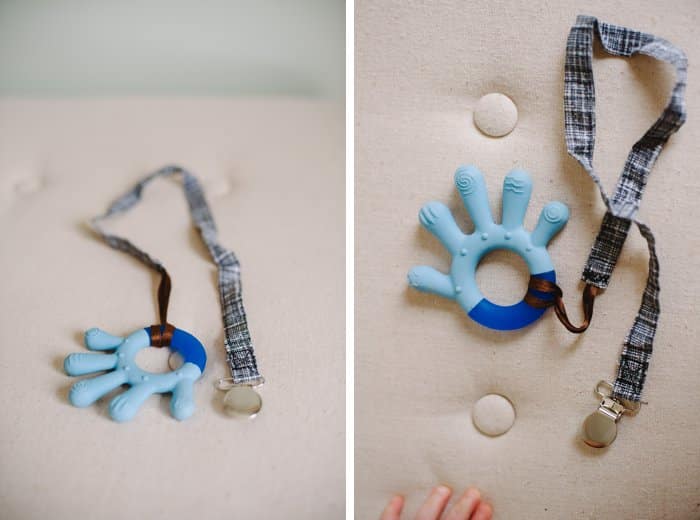 10. Formula dispenser to use as snack container
Now that Raleigh is eating solids and is hungry a lot of the time, I need to bring snacks along when we are out and about. Sometimes that is the best way to keep him occupied and content, like when we are shopping or at church.
The actual purpose of these formula containers is to put individual bottle-sized servings of powdered formula in so that it's easy and convenient to make bottles on the go. I'm sure they work great for that purpose.
They also make the perfect snack container for the diaper bag! I love that I can bring along three types of dry snacks in one small container.
I think it's the slickest snack container ever and so cheap!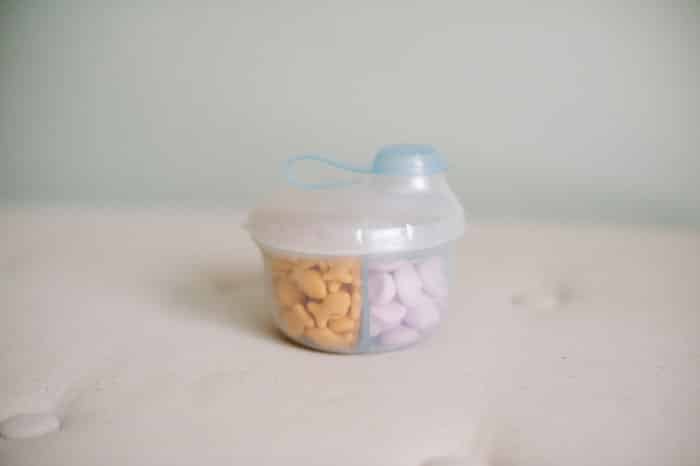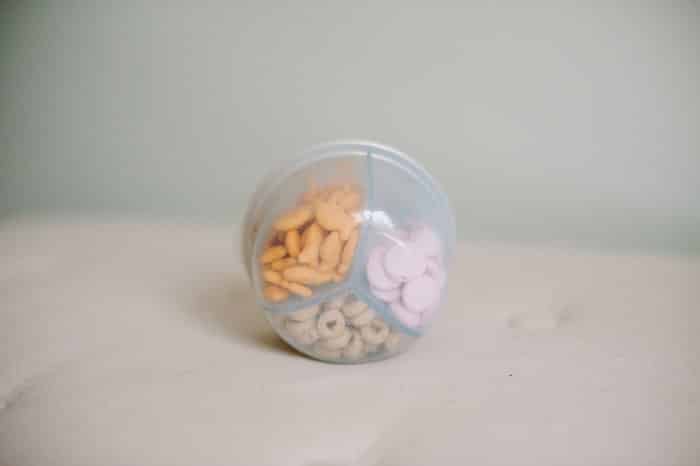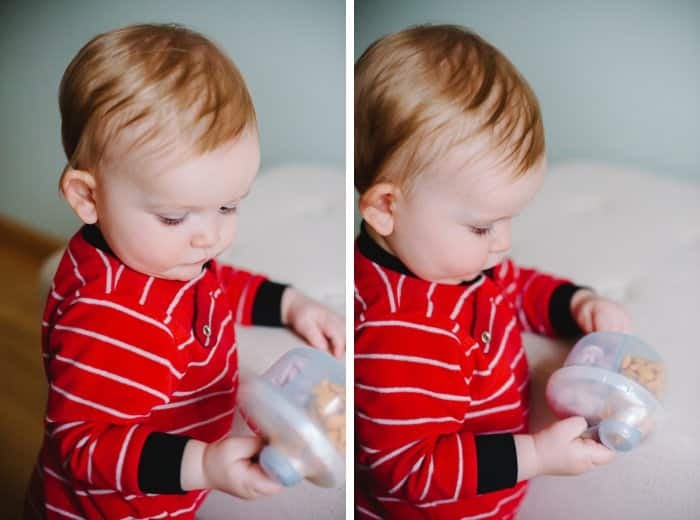 11. Refillable food pouches
My first experience with baby food pouches were when my niece was younger. My sister bought pouches that had a serving of veggies along with fruit because it was the only way Leighton would eat veggies for awhile. As Tony said the other day, "She lived off pouches for a year!"
When I started making homemade baby food purees for Raleigh, a friend recommended the Infantino Fill Station to make my own pouches for easy feedings on the go. I used the 10 single-use pouches that came with the fill station to make my first batch of pouches, and loved how convenient they were to feed Raleigh when we were out.
My only complaint with the single-use pouches was how wasteful it seemed. Especially when I'm using at least one a day; the cost adds up quick, as does the waste. I had seen the reusable pouch options for sale on Amazon, and I decided to try them out.
I bought the Mini Matters Eco Squeeze Pouches which came with 8 large pouches and 8 caps. They have a double ziploc bottom that allows the pouches to be filled from the opened bottom and sealed for use. Then, when they are empty, the ziploc can be opened and the whole pouch thoroughly rinsed out. They are also dishwasher safe.
The pouches can also be filled using the Infantino Fill Station, but I actually think it's quicker and easier to use a big spoon to drop spoonfuls of puree into the empty pouches with the caps on, from the open bottoms. That's what I've been doing the most.
We feed Raleigh a lot of table foods throughout the day. Usually simple things like cheese, deli meat, fruit and crackers, as well as pieces of whatever we are eating. But these pouches help to supplement his meals and also offer me a way to feed him a substantial meal if we are away from the house.
I have been filling our pouches with a mixture of pureed prunes, squash or sweet potato and store-bought unsweetened applesauce. Raleigh is able to get some veggies, fruits and fiber to help keep him regular with all the solids and cheese he eats haha!
As long as I rinse out the pouches with hot water relatively soon after we use them, they are easy to keep clean. I was skeptical to try them in the dishwasher because they weigh next to nothing. I was worried they would fly around during the cycle and end up on the heating element at the bottom and get ruined. I've tried washing several of them in the dishwasher now though, and so far so good. I open them up and put them upright like a cup over one or two of the prongs, on the top rack. I have a dishwasher basket that I put the caps in. So far, this system is working well!
I have been making up a batch of them and freezing them. Then, I take one out each morning for Raleigh to eat, usually with dinner. If we are going to be gone over a main mealtime, I take one with us and it thaws in my diaper bag. They are also easy to thaw under warm water if it's time to eat and they're still frozen.
Even if you're not into making your own baby food, these are such a cost saver. The pouches I have seen at the store are at least $0.79 each [at Aldi, the cheapest place I've seen them] and usually closer to $1.50 or more. You could fill some with store-bought unsweetened applesauce and the only work you'd have to do is spoon the applesauce into the empty pouches.
Convenient, easy and cheap! Plus, eco-friendly too. Win-win!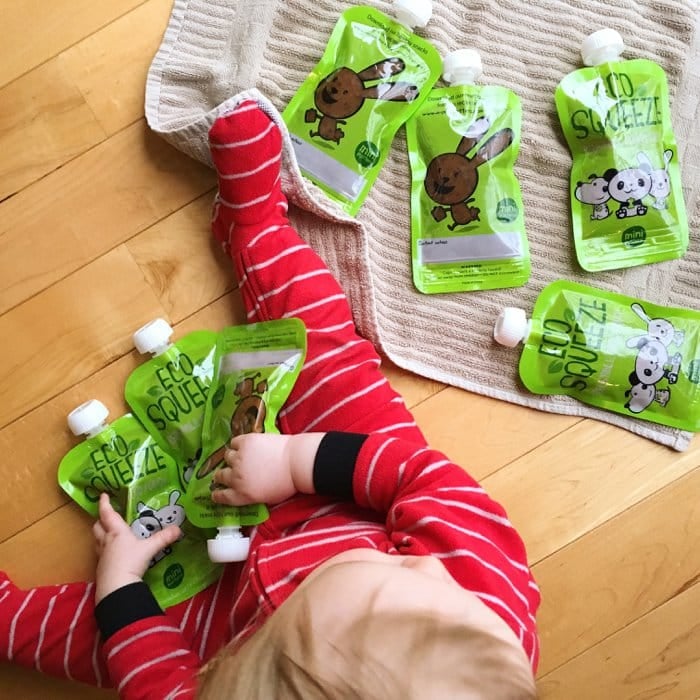 Bonus #12. A drawer full of tupperware
Why do kids love things that really aren't toys?
This was another tip from my sister that they learned when my niece was a baby. They baby-proofed their kitchen and left one drawer open for Leighton to play in. They put things that were ok for her to play with inside, and it helped keep her occupied and out of the rest of the stuff.
We left two drawers open for Raleigh when we baby-proofed our kitchen. The bottom drawer was where we kept our food storage containers that weren't nice tupperware. Things like rinsed out plastic yogurt and ice cream containers. We left them in there, figuring they would be good things for him to play with, that didn't matter if they got wrecked.
Raleigh plays with these food tubs for hours each day. Hands down, these are the most played with items in our house. He knows exactly where his drawers are. They are the first thing he plays with in the morning, and he visits those drawers at least a dozen times a day.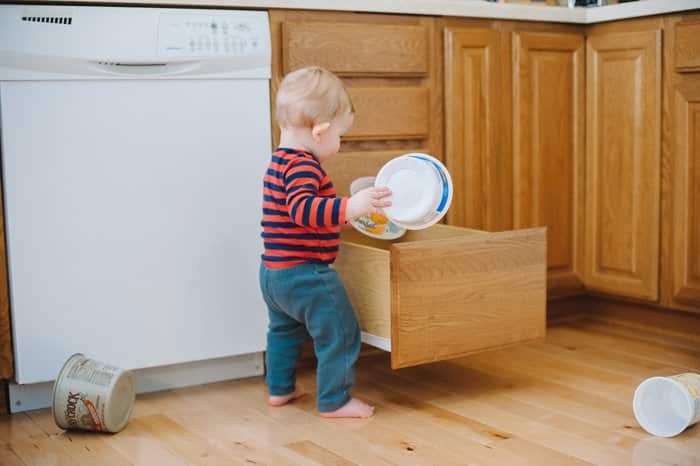 Bonus #13. Rubber dog-toy balls
Also, why does my kid like the dog's toys so much?
These balls were one of Remy's Christmas presents. Raleigh loves them, and picks them out of Remy's toy box to play with.
I think it's probably because they are the perfect size for his little hands, and he loves the color orange. There are also two of them, and he likes to carry one in each hand. They bounce when he drops them on the floor, and he chases after them.
The dog loves the baby's toys and the baby loves the dog's toys, go figure!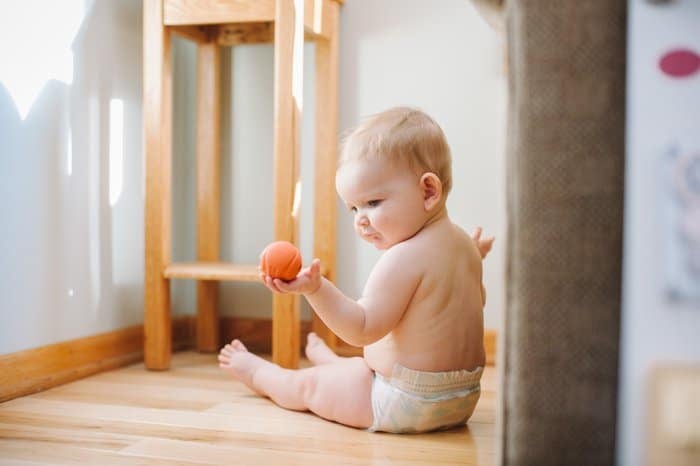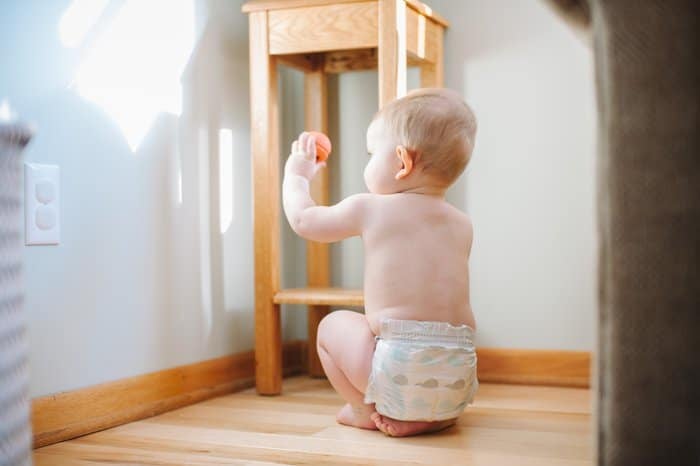 – – – – – –
Like I prefaced at the start of this post, having a baby is a surefire way to feel a ton of pressure to BUY ALL THE THINGS. Everywhere you turn, there are different recommendations and more things people swear by. And when you're brand new to motherhood, you have no frame of reference or experience to know what you will like or use. All you have is what you've been told and read about.
While none of these 13 things are true NECESSITIES when preparing to bring your baby home, I can confidently say after raising my son for nearly a year, I am so thankful to have every one of these products.
There were a lot of things I registered for that I either didn't use or could probably have done without. But these 13 things?
They are all crucial parts of our everyday routine and I am sure glad to have them!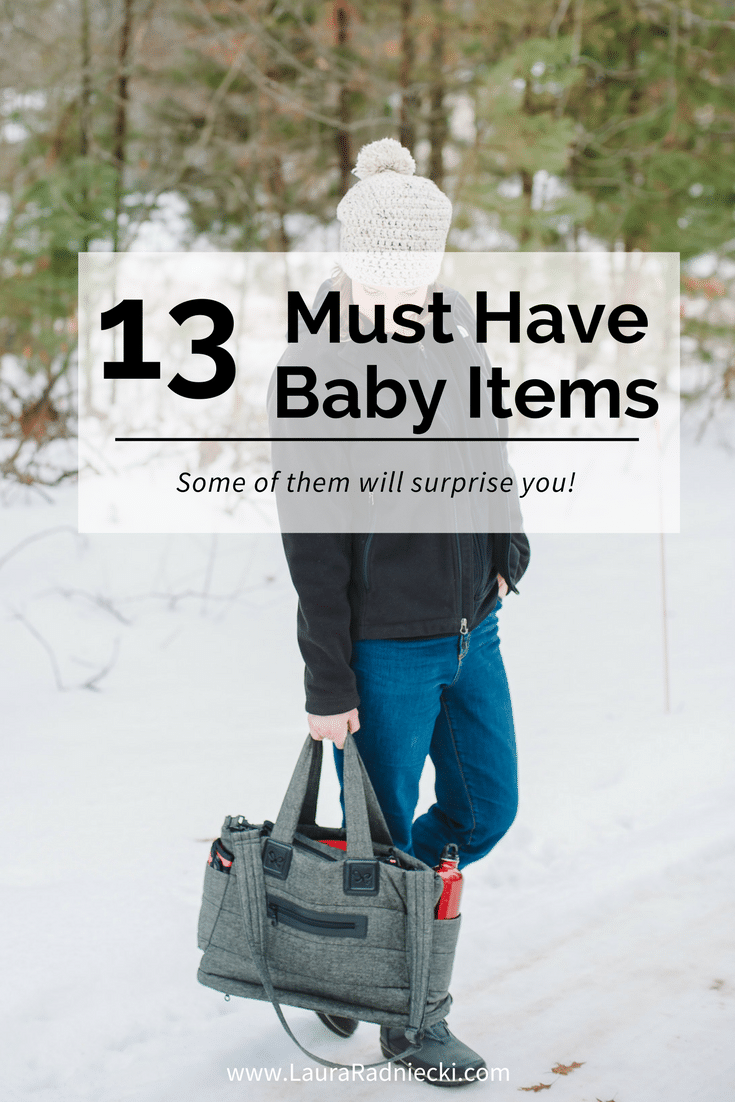 – If you liked this post, I would love if you would share it on Pinterest or Facebook. Thanks & xo! –